Apple Releases New MagSafe Duo Firmware
Apple today released updated firmware for the MagSafe Duo charger that is designed to work with the Apple Watch and MagSafe-compatible iPhone models. The new firmware is version 10M3063, but in the settings app, you'll see a 256.1067.0 version number, up from 186.0.0.0.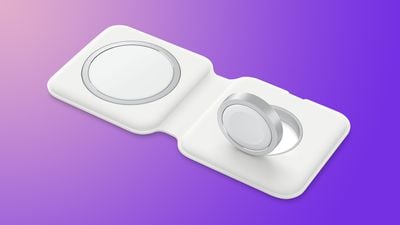 The ‌MagSafe‌ Duo was first released in 2020 alongside the ‌iPhone‌ 12 models, and it has not had a firmware update before. This is the first time Apple has tweaked the ‌MagSafe‌ Duo firmware, and with no notes available, it's not clear what's different.
Apple's ‌MagSafe‌ Duo is meant to charge an ‌iPhone‌ and an Apple Watch, but it does not work well with the oversized Apple Watch Ultra. In fact, Apple published a support document instructing people on how to best adjust the Apple Watch Ultra to charge with the device. In some cases, the band needs to be removed before the Ultra and the Duo can work together, and the Apple Watch Ultra is not listed as a supported device on the ‌MagSafe‌ Duo page on Apple's website.
There is no clear method for updating the ‌‌‌MagSafe‌‌‌ Duo's firmware, but it needs to be plugged in and connected to an Apple device for a firmware update to initiate. You can check your ‌‌‌MagSafe‌‌‌ Duo firmware by following the instructions in our MagSafe how to.