Forget About These Five Rumored Apple Devices Launching This Year
While 2023 is shaping up to be a big year for new Apple devices, there are at least six new products we are actively not expecting the company to launch this year.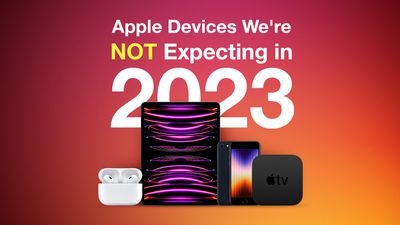 Certain devices across many of Apple's key product lines, including the iPhone, iPad, Mac, Apple TV, and AirPods, are expected to remain untouched in 2023, with little to no risk of being replaced by a successor. While it is likely that a large number of Apple devices now on sale will remain available through the entirety of the year, only some can be firmly counted out for this year at the current time.

Third-Generation AirPods Pro
A third-generation version of the AirPods Pro is highly unlikely to launch in this year owing to the relatively recent launch of the second-generation model.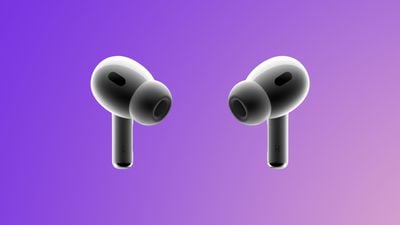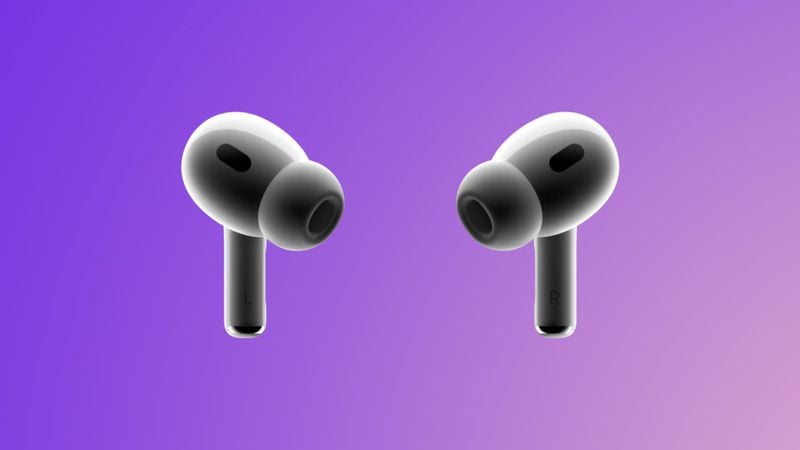 The second-generation ‌AirPods Pro‌ launched in September last year, offering a major update with active noise cancellation enhancements, Adaptive Transparency mode, H2 chips, battery life improvements, touch volume controls, improved battery life, IPX4 sweat and water resistance, Apple Watch charger compatibility, the U1 chip for precision finding, and more. The scale of this update suggests that it could be some time before a sufficient number of further upgrades are ready for a third-generation model.
The second-generation ‌AirPods Pro‌ came 35 months after the launch of the previous generation, which also suggests that it could be a long while before a third-generation model arrives. Likewise, Apple appears to focus on refreshing just one AirPods model each year, and the AirPods Max are next up for a refresh, followed by the standard AirPods. This means that third-generation ‌AirPods Pro‌ may not arrive until 2025.

Fourth-Generation iPhone SE
There have been a multitude of rumors about the fourth-generation iPhone SE, even predating the launch of the current, third-generation model that launched in early 2022 – yet it increasingly looks like the device is off the cards for this year and may even have been canceled entirely.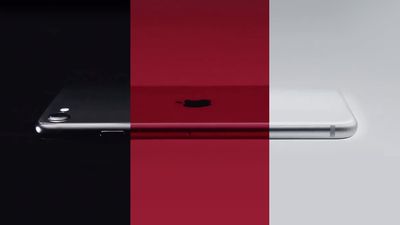 The current ‌iPhone SE‌ contains the A15 Bionic chip – something it shares with the iPhone 13 mini, ‌iPhone 13‌, ‌iPhone 13‌ Pro, ‌iPhone 13‌ Pro Max, iPhone 14, ‌iPhone 14‌ Plus, iPad mini, and third-generation ‌Apple TV‌ 4K. The ‌iPhone 13‌, ‌iPhone 14‌, and ‌iPhone 14‌ Plus are all highly likely to remain in Apple's product lineup this year, even after the launch of iPhone 15 models in the fall. This means that the current ‌iPhone SE‌ will retain relatively modern hardware throughout the entire year, making it less necessary for Apple to refresh the device.
Apple also seems to leave two to three years inbetween ‌iPhone SE‌ models, rendering an update this year less likely. Reports about the device have also been fairly consistent that the next ‌iPhone SE‌ was scheduled to arrive in 2024, rather than this year.
More strikingly, rumors around the device have recently cast skepticism on the device launching at all. In October, Bloomberg's Mark Gurman said there was no sign of an iPhone SE with a Touch ID side button actually in the pipeline. In January, Apple analyst Ming-Chi Kuo suggested that the company had now canceled the fourth-generation ‌iPhone SE‌ due to consistently lower than expected shipments of middle tier and lower-end smartphones like the ‌third-generation ‌iPhone SE‌‌, the ‌iPhone 13‌ mini, and the ‌iPhone 14‌ Plus.

Seventh-Generation iPad Pro
The next-generation iPad Pro models are the most-rumored upcoming ‌iPad‌, but they look very unlikely to launch this year. The current 11- and 12.9-inch ‌iPad Pro‌ models were released in October 2022, adding the M2 chip, Apple Pencil hover, Smart HDR 4, Wi‑Fi 6E, and Bluetooth 5.3 – another minor refresh like the fifth-generation iPad Air.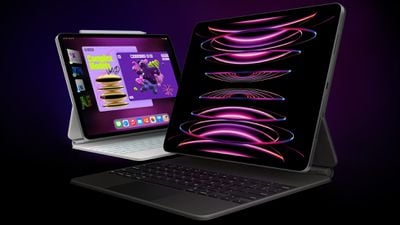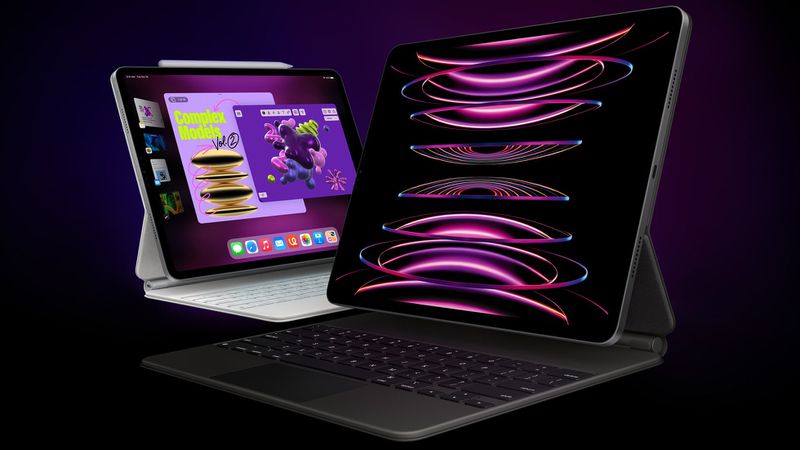 With the current- and previous-generation ‌iPad Pro‌ models featuring M-series chips, and the 2022 refresh making the leap to the ‌M2‌ chip, the M3 chip is the most likely chip to be included in the next-generation ‌iPad Pro‌. The M3 chip is expected to be manufactured using TSMC's 3nm process, bringing the biggest performance and efficiency boost to Apple's chips in several years. The first Apple devices with M3 chips are not likely to appear until the second half of 2023, which seemingly rules out a new ‌iPad Pro‌ anytime soon.
Moreover, the main feature rumored for the next-generation ‌iPad Pro‌ is OLED displays – an upgrade that has been rumored for over a year. Dozens of reports from multiple sources are consistent that ‌iPad Pro‌ models with OLED displays are scheduled to launch in 2024, rather than this year. The OLED displays Apple is planning to use will reportedly be more durable and enable thinner and more lightweight device designs, and they could have slimmer bezels with the display size options increasing from 11- to 11.1-inches and 12.9- to 13-inches.
The one thing that is clear about the next major ‌iPad Pro‌ update according to rumors is that it will not launch in 2023, meaning that any new ‌iPad Pro‌ models this year seem very unlikely. Apple waited over 18 months between the 2021 and 2022 ‌iPad‌ Pros, and if a similar timeline was followed again, the next-generation ‌iPad Pro‌ would launch in May 2024.

Fourth-Generation Apple TV 4K
Like the ‌AirPods Pro‌, the ‌Apple TV‌ 4K recently received a fairly significant refresh in 2022. The third-generation ‌Apple TV‌ 4K added the A15 Bionic chip, a new design, support for HDR10+ content, twice as much storage, and a USB-C port on the Siri Remote. As a significant update late in 2022, another update in 2023 seems unlikely.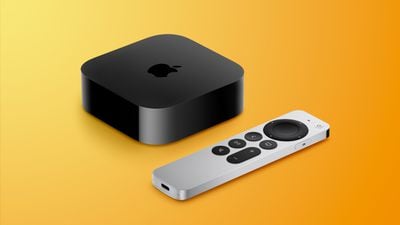 Like the ‌iPhone SE‌, the ‌Apple TV‌ now contains the A15 Bionic – a chip that is likely to remain prevalent across a range of Apple devices through 2023, meaning that a further chip upgrade this year seems highly unlikely. It is also not clear what else Apple could bring to the ‌Apple TV‌ at this time to offer a meaningful upgrade, and the lineup seems to be in a strong position with two models at lower price points of $129 and $149.
No immediate successor to the current ‌Apple TV‌ has been rumored for 2023, but Bloomberg reports that a new model will launch in the first half of 2024. There have also been reports about a combined Apple TV and HomePod device for some time, but this product does not seem to be nailed down for a launch date this year.

Apple Car
Apple has been rumored to be working on its own electric vehicle for many years at this point, and while the project is seemingly increasingly developed and focused, the car is not expected to emerge publicly this year.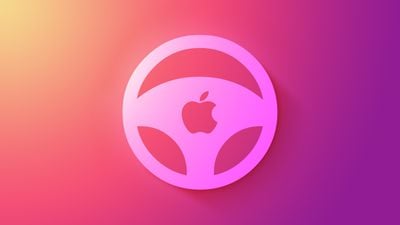 There have been hundreds of well-sourced reports about Apple's car plans, but the latest information from Bloomberg suggests that the company recently scaled back its plans and dropped its proposed $120,000 price point, eliminating ambitions for a full self-driving vehicle with no steering wheel or pedals.
Now, the car is expected to have a much more conventional design with limited self-driving capabilities, for a price under $100,000. The car is now expected to launch in 2026 at the earliest, but it could be announced sometime in 2025.