MagSafe Battery Pack Owners Get Unexpected Upgrade
Apple has significantly boosted the charging speed of the MagSafe Battery Pack via a firmware update, offering enhanced functionality, even for users who already own the accessory.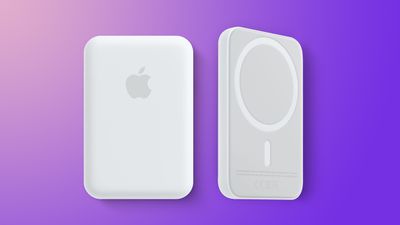 Apple's latest firmware update for the MagSafe Battery Pack, released last week, enables 7.5W charging on the go, up from the previous limit of 5W that has been a subject of discontentment for some users.
When Apple launched the MagSafe Battery Pack in July 2021, many users were disappointed to find that it would charge at a maximum of 5W while on the go, especially since other MagSafe accessories can charge at 15W. When connected to power via a Lightning cable, the ‌MagSafe Battery Pack‌ can charge at the full 15W, but that is not possible when it is used without an external power source.
Now, users who install the firmware update can charge iPhone 12 and iPhone 13 models at a 25 percent faster 7.5W rate. This is still not as quick as the full 15W ‌MagSafe‌ charging, but it is equivalent to the fastest available Qi charging speeds on the iPhone. In a support document, Apple explained that ‌MagSafe Battery Pack‌ owners must update their firmware to the new 2.7.b.0 release to enable the faster 7.5W charging capabilities.

Updating the ‌MagSafe Battery Pack‌ can be accomplished by attaching it to an ‌iPhone‌ and waiting up to a week, or using a Mac or an iPad to update within five minutes. Apple suggests users connect a Lightning cable to the ‌MagSafe Battery Pack‌ and then plug the USB side into an ‌iPad‌ or Mac to initiate the update process. Users can check which firmware version their ‌MagSafe Battery Pack‌ is running by attaching it to an ‌iPhone‌ and then navigating to Settings, General, About, and ‌MagSafe Battery Pack‌.