Redesigned MacBook Air Could Miss Out on M2 Chip
Apple's long-rumored redesigned MacBook Air could miss out on the next-generation "M2" chip and retain the M1 chip instead, according to insightful Apple analyst Ming-Chi Kuo.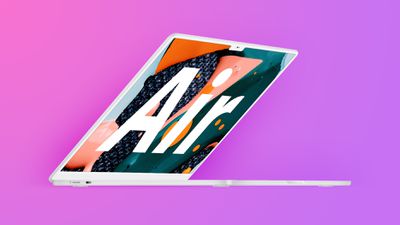 In a tweet posted after Apple's spring "Peek Performance" event, Kuo provided some more details about the 2022 ‌MacBook Air‌, including the suggestion that the new device will feature the M1 chip, rather than the next-generation ‌M2‌ chip.
Everything we have heard about the new ‌MacBook Air‌ until now has said that it will feature the M2 chip with an 8-core CPU and 10-core GPU, and there have even been signs of this chip spotted in macOS Monterey. Despite this, Kuo has since confirmed to MacRumors that he believes the next ‌MacBook Air‌ will still contain an ‌M1‌ chip, although he said it could be a modified version of the existing ‌M1‌, presumably to help differentiate it from the current ‌MacBook Air‌.
Apple launched the current ‌MacBook Air‌ in November 2020, featuring the ‌M1‌ chip in the same design as the previous model. It seems plausible that Apple could be planning to entice customers to buy the new model with its complete redesign, MagSafe charging, new display, and more, rather than with a new chip.
The claim may make more sense in light of another rumor about the iPhone 14 lineup. It now looks like the ‌iPhone 14‌ and "‌iPhone 14‌ Max" may contain the same A15 Bionic chip from the iPhone 13 lineup, with the next-generation A16 chip being exclusively reserved for the high-end ‌iPhone 14‌ Pro and ‌iPhone 14‌ Pro Max models. According to these recent rumors, it may be the case that Apple is moving to retain the same chips on its devices for multiple generations, at least for consumer-level devices.
Corroborating previous rumors, Kuo also said that the new ‌MacBook Air‌ will feature an all-new form factor design and more color options. Previous reports have suggested the new ‌MacBook Air‌ will not have a tapered design, with Apple instead looking to offer a more MacBook Pro-style look. It is expected to be thinner and lighter, and it could come in color options similar to the 24-inch iMac color options, like blue, green, pink, silver, yellow, orange, and purple. It is also rumored to feature off-white bezels and a matching off-white keyboard rather than black.
Kuo said that the ‌MacBook Air‌ will not feature a mini-LED display, with Apple reserving that feature for its high-end MacBook Pro models, and he believes that mass production will begin in the late second quarter or in the third quarter of 2022.