Apple CEO: 'Buy an Android Phone' If You Want to Avoid the App Store
Apple CEO Tim Cook recently explained the circumstances in which users should purchase an Android phone instead of an iPhone, encouraging users who want to download apps from anywhere on the internet instead of the App Store to "buy an Android phone."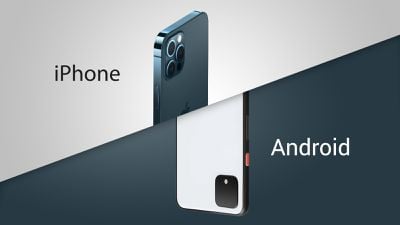 Speaking at The New York Times "DealBook" summit last month, Cook explained that sideloading, the practice of downloading and installing unverified apps from the internet, was a key reason why users may choose an Android phone over an ‌iPhone‌:
If you want to sideload, you can buy an Android phone. That choice exists when you go into the carrier shop. If that is important to you, then you should buy an Android phone. From our point of view, it would be like if I were an automobile manufacturer telling [a customer] not to put airbags and seat belts in the car. He would never think about doing this in today's time. It's just too risky to do that. And so it would not be an iPhone if it didn't maximize security and privacy.
Cook's comments come amid a time of intense scrutiny for the ‌App Store‌ and the limits on what users can install on their ‌iPhone‌. Some critics have called for Apple to enable sideloading on the ‌iPhone‌ to allow users to download and install apps directly from the internet, with no need to use the ‌App Store‌.
Cook has fiercely defended the inability to sideload apps on the ‌iPhone‌ on the basis of security, as bipartisan antitrust legislation to allow third-party app stores and sideloading on the ‌iPhone‌ gather pace.
Last month, Apple's senior vice president of software engineering, Craig Federighi, said that sideloading is a "cybercriminal's best friend," highlighting the potential dangers of allowing users to install software from anywhere on the web. In a paper published in October, Apple said that Android smartphones have been attacked by mobile malware 15 to 47 times more than iPhones. "This is closely linked to sideloading," the paper claimed.
Earlier this year, Microsoft co-founder Bill Gates presented an alternative view when he said he prefers Android to iOS in an interview with journalist Andrew Ross Sorkin:

I actually use an Android phone. Because I want to keep track of everything, I'll often play around with iPhones, but the one I carry around happens to be Android.

[...]

Some of the Android manufacturers pre-install Microsoft software in a way that makes it easy for me. They're more flexible about how the software connects up with the operating system. So that's what I ended up getting used to. You know, a lot of my friends have iPhone, so there's no purity.
In a 2019 interview, Gates admitted that Microsoft losing to Android as the standard non-Apple phone platform was "one of one of the greatest mistakes of all time" for the Redmond-based company.