Apple's new iPhone 15 and ‌iPhone‌ 15 Plus begin arriving to customers and launch in stores on Friday, September 22. Ahead of time, the first reviews of the devices have been shared by select media outlets and YouTube channels.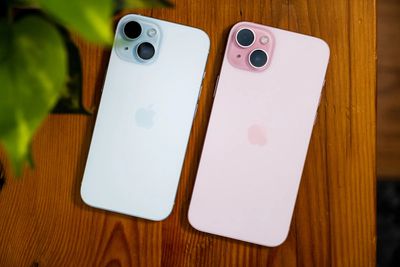 Image via The Verge
The ‌iPhone‌ 15 and ‌iPhone‌ 15 Plus offer a new design, the
Dynamic Island
, a USB-C port, the A16 Bionic chip, a 48-megapixel main camera, Smart HDR 5, Apple's second-generation Ultra Wideband chip for Precision Finding with
Find My
friends, and more.
Reviewers are generally in agreement that the ‌iPhone‌ 15 represents a significant update of Apple's standard ‌iPhone‌ models, sporting bigger and more useful upgrades than in many previous years. We've rounded up both written and video reviews of the ‌iPhone‌ 15 and ‌iPhone‌ 15 Plus below.

Written Reviews
The ‌iPhone‌ 15 features a new design with contoured edges, frosted back glass, and the ‌Dynamic Island‌. It is also available in a refreshed selection of color options, including Black, Blue, Green, Yellow, and Pink. Pocket-Lint's Britta O'Boyle on the ‌iPhone‌ 15's revamped design:
There's a matte glass back in place of the coloured glossy finish we've been accustomed to since the iPhone XR and its vibrant, colourful back. The iPhone 15 completely pivots on this design feature, opting for a much more subtle, pastel finish. The colours - of which there are six to choose from - have been infused into the glass and the result is a very, light shade of colour. And I mean very light, almost non-existent.

The aluminium frame - no titanium here like on the Pro models - does have a stronger colour presence however, matching the colour within the glass rear and complimenting it beautifully. It's not just the softness in colour that makes the iPhone 15 stand out though. Like the iPhone 15 Pro models, the rear of the iPhone 15 is almost soft-to-touch with a lovely smooth finish that makes this phone really rather delightful to hold - trust me on this. The edges are also slightly contoured, removing the sharpness where the rear met the frame on the iPhone 14.

[...]

Flip the iPhone 15 onto its silky soft matte back and you'll notice some big changes to the front. The bezels have reduced slightly - not as much as the iPhone 15 Pro, but enough to make a noticeable difference if you look close enough. You probably won't though, because it will be the lack of notch at the top of the display that will likely capture your attention first.
The Verge's Dan Seifert on the ‌iPhone‌ 15's USB-C port, which is limited to USB 2.0 speeds, just like the Lightning connector:
The other big hardware change this year is the swap from Lightning to USB-C for charging and data transfer. This change has been a long time coming, and I applaud it, even if Apple is literally years late to doing so. It does mean that the piles of Lightning cables and accessories you've accumulated are obsolete now (Apple gives you a new braided cable in the box with the phone), but it also means you don't have to carry multiple charging cables for your iPhone, iPad, laptop, and other accessories. And hey, you can now use the same charging cable as your Android-toting friends and loved ones, which will certainly come in handy at some point.

The USB-C port supports wired charging up to 27W and can output to a display at 4K60 resolution. But it's limited to USB 2.0 data transfers: just 480Mbps, 20 times slower than the USB 3 data speeds available on an iPhone Pro or an iPad Air and 80 times slower than what comes on all Macs at this point. Most people will never plug their phone into a computer to transfer data off of it, but the limitation shows up in other areas, like when I plugged a USB-C ethernet adapter into the iPhone 15 and only got half of my gigabit internet speed. Or when switching to a new phone and using a cable to move your data over and having to wait as gigabytes of data are squeezed through the USB 2 connection. It just feels like a stingy limitation on an $800-plus phone considering faster USB speeds have been out for 15 years.
MobileSyrup's Patrick O'Rourke on the A16 Bionic chip, first introduced in last year's iPhone 14 Pro models:
It's important to note that the iPhone 15 and iPhone 15 Plus feature the same A16 Bionic chip as the iPhone 14 line. It looks like this is Apple's new cadence of release; the top-tier phone features the high-end chip, while the base-level device gets last year's processor. Does this matter anymore when Apple's chips are so far ahead of the competition? It doesn't, and at this point, Apple knows it.

[...]

During my time with the iPhone 15 and iPhone 15 Plus, I didn't encounter any slowdown, whether I was running high-end apps or being an internet power user in Firefox. Would I prefer Apple to stick with including its most powerful chip in all of its new smartphones? Definitely, especially as the promise of console-level gaming looms on with the iPhone 15 Pro and its A17 Pro chip, while the iPhone 15 and iPhone 15 Plus are stuck with the A16. However, this likely won't matter to the iPhone 15's audience.
Wired's Lauren Goode on the ‌iPhone‌ 15's multitude of camera improvements:
The entire camera system on the iPhone 15 does offer more granular control over your photos than the iPhone 14 does, even if some of the resulting images aren't stunningly better than the prior generation's. The biggest update is that the iPhone 15 has the ability to capture both 24-megapixel and 48-megapixel images, which can be preset under "Resolution Control" in your phone's camera settings. But this feature is optimized for shooting at 1X in decent light, whereas if you shoot at .5X, or ultrawide, the camera will default back to 12-megapixel captures.

The iPhone 15 now has an additional 2X optical zoom option, whereas the iPhone 14 only offered .5 and 1X zooms. Portrait mode on iPhone 15 can be activated automatically when the camera detects a portrait-worthy image, though in my experience, the iPhone 15 has yet to deem any of my subjects worthy of portraiture. Also, in Portrait mode, you can now control the depth of the image and zoom out to capture even more data from the scene. This is admittedly a nice feature add.
Video Reviews