The New MacBook Pro Has More Ports – But Not All Users Are Happy
With its latest high-end MacBook Pro models, Apple restored the MagSafe charging port, HDMI port, and SDXC card slot, but not all users are happy.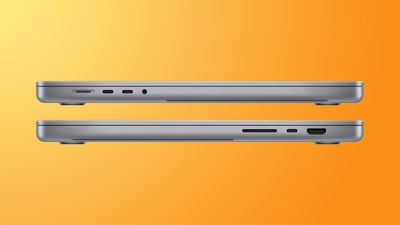 While there seem to be few complaints about the return of ‌MagSafe‌ charging, especially since the option to charge via Thunderbolt 4/USB-C continues to be available, most dissatisfied users seem to be focusing on the HDMI port and SDXC port.
The new MacBook Pro's HDMI is a 2.0 specification port, but some users are frustrated that Apple did not include a more modern HDMI 2.1 port. HDMI 2.1 has been available since 2017, featuring support for higher resolution displays with higher refresh rates, Dynamic HDR, Display Stream Compression, Auto Low Latency Mode, and a range of other improvements for professional users. The main difference with HDMI 2.1 is support for 4K displays with refresh rates up to 120Hz. HDMI 2.0 on the MacBook Pro only supports refresh rates up to 60Hz.
It is curious that Apple did not include HDMI 2.1 in the new MacBook Pro models because the Apple TV 4K that was released earlier this year does have an HDMI 2.1 port.
A similar criticism has been leveled at the SDXC memory card slot, which is an UHS-II speed class slot. UHS-II supports bus speeds of up to 312 MB/s, but there is a faster UHS-III speed class that enables speeds up to 624 MB/s. UHS-III, like HDMI 2.1, was introduced in 2017, leading some observers to claim that Apple has had more than enough time to implement the new specifications.
Critics argue that since the high-end MacBook Pro is an expensive machine clearly targeted at professional users, it should feature more recent port specifications. Despite these complaints, many users are likely just pleased to have a HDMI port and SDXC card slot available on the machine, alleviating the need for most dongles. That being said, the return of the ports has not not pleased all users, as this MacRumors forum thread shows.