Why Is Apple Bringing Back This Old MacBook Pro Feature?
Apple is expected to bring back the MagSafe connector on this year's redesigned MacBook Pro models to facilitate a number of useful features, including faster charging speeds, according to recent reports.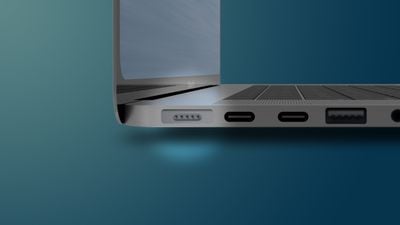 ‌‌MagSafe‌‌‌ first debuted in January 2006 when Apple launched the first-ever MacBook Pro. The ‌‌‌MagSafe‌‌‌ port featured a rectangular design with five holes, which corresponded to an accompanying connector with magnets. In 2016, with the introduction of the USB-C MacBook Pro models, Apple began discontinuing ‌‌‌MagSafe‌‌, and the last machine with ‌‌‌MagSafe‌‌‌, the 2017 MacBook Air, was discontinued by Apple in July 2019.
Reliable sources such as Apple analyst Ming-Chi Kuo and Bloomberg journalist Mark Gurman have said that Apple will bring back the ‌MagSafe‌ charging port on redesigned MacBook Pro models later this year.
Gurman explained that the returned ‌‌MagSafe‌‌ charging will include a similar design to the previous incarnation of ‌‌MagSafe‌‌ on MacBooks. Two USB-C ports are expected to remain on the left of the MacBook Pro, next to the ‌‌MagSafe‌‌ connector.
The return of the charging port would restore its original main selling point, which was easy connection and disconnection using magnets. The simple idea behind ‌‌MagSafe‌‌ was that if tugged on, the charger would detach quickly and smoothly without causing damage to the ‌port or dragging the MacBook Pro.
Better still, charging was easier than with USB-C because there was no need to align and insert a connector deeply into a port thanks to its shallowness and use of magnets. As well as these simple, practical features, ‌MagSafe‌ on the MacBook Pro is also expected to deliver even faster charging speeds, according to Gurman.
The return of ‌MagSafe‌ is in line with the other significant design changes coming to this year's MacBook Pro models, where Apple appears to be backtracking in a number of areas. The 2021 MacBook Pro models are expected to remove the Touch Bar in favor of physical function keys and add more ports, including HDMI and an SD card reader, in a clear return to the older features and principles of the popular laptop. Restoration of the ‌‌MagSafe‌‌ connector, which has been absent on new MacBook Pro models since 2015, appears to be another of these unexpected reversals.
The new MacBook Pro models are expected to come in 14 and 16-inch sizes and feature new designs, mini-LED displays, improved cooling, and more powerful Apple silicon chips with up to 10 cores. The updated MacBook Pros could arrive as WWDC on June 7, according to some reports.
For more information about ‌‌MagSafe‌‌, see our "Look Back at Apple's Original Magnetic Charging Technology."