Face ID for Mac Delayed
Apple's plans to bring Face ID authentication to the Mac this year have been delayed, according to a recent report.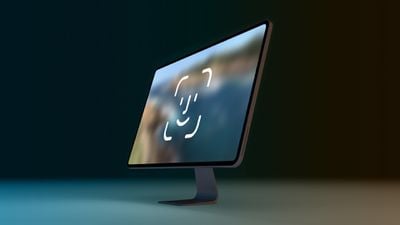 ‌Face ID‌ debuted in 2017's iPhone X and has been a key feature of Apple's flagship iPhones ever since, with the iPad Pro also gaining the facial recognition system in 2018. Apple's ‌Face ID‌ feature allows a device to be unlocked with a facial scan and is limited to the ‌‌iPhone‌‌ and the ‌iPad Pro‌ at the current time, but last year, code found in the macOS Big Sur betas has suggested that Face ID could come to Macs in the future. Speculation that Apple will bring ‌Face ID‌ to Macs is not new, but rumors have been few and far between until a recent report from Bloomberg's Mark Gurman.
According to Gurman, Apple has developed a version of ‌Face ID‌ for the Mac. Despite plans to roll out the feature to the iMac expected later this year, the feature has been delayed until the second iteration of the redesigned machine.
Apple has also developed underlying Mac support for both cellular connectivity — the ability for Macs to connect to the internet via smartphone networks — and Face ID, the company's facial recognition system. But neither feature appears to be coming soon. To that end, Face ID had originally been planned to arrive in this year's ‌iMac‌ redesign, but it's now unlikely to be included in the first iteration of the new design.
This suggests that ‌Face ID‌ for the Mac has been in the works for some time. ‌Face ID‌ makes particular sense on machines such as the iMac, which are unable to offer a built-in Touch ID fingerprint scanner on the keyboard due to the need for a T2 chip or a Secure Enclave, but it could improve the experience of authenticating and unlocking across the Mac lineup.
With the ‌iPhone‌ and ‌iPad Pro‌ already featuring ‌Face ID‌ for some years now, and in light of the news that the feature is in development for the Mac, it simply seems like a matter of time before the first Mac with ‌Face ID‌ is unveiled.