Apple Expected to Kill the MacBook Pro's Touch Bar This Year
Apple is expected to drop the Touch Bar from its upcoming MacBook Pro models and use physical function keys in its place, according to new reports from Ming-Chi Kuo and Mark Gurman.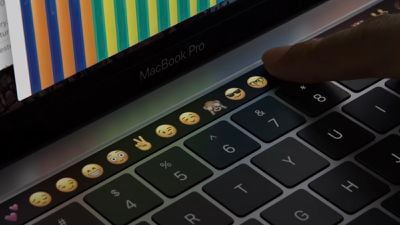 The Touch Bar is an OLED touchscreen strip positioned above the keyboard, providing users with customizable controls, ranging from traditional function keys to app-specific shortcuts and features. A popular example of the Touch Bar's capabilities the display of a row of emojis when composing a message in the Messages app.
In a note to investors seen by MacRumors, reliable analyst Ming-Chi Kuo has said that two new 14 and 16-inch MacBook Pro models will omit the Touch Bar entirely, with Apple instead returning to physical function keys. Bloomberg's Mark Gurman has stopped short of saying that the Touch Bar will be removed this year. Instead, Gurman states that Apple has "tested" versions of the MacBook Pro without the Touch Bar, implying that it may choose to remove it.
Apple described the Touch Bar as "revolutionary" and "groundbreaking" when it was first introduced on the 2016 MacBook Pro:
"The Touch Bar places controls right at the user's fingertips and adapts when using the system or apps like Mail, Finder, Calendar, Numbers, GarageBand, Final Cut Pro X, and many more, including third-party apps," Apple said in 2016. "For example, the Touch Bar can show Tabs and Favorites in Safari, enable easy access to emoji in Messages, provide a simple way to edit images or scrub through videos in Photos and so much more."
The Touch Bar went on to be a divisive feature among users, with some decrying the lack of physical controls for functions such as volume or brightness. Apple already made a slight concession by re-introducing a physical Esc key on the latest 13-inch and 16-inch MacBook Pro models after users complained about the virtual Esc key on the Touch Bar from previous models.
Kuo expects the new 14-inch and 16-inch MacBook Pro models to launch in the third quarter of 2021, which begins in late June. The updated machines are speculated to feature Apple Silicon chips, new designs, displays, more ports, and the return of MagSafe charging. For more on what to expect from these new MacBook Pro models, see our "Everything We Know" guide.