Top 5 Benefits of Apple Silicon Macs [Updated]
After announcing the transition away from Intel chips at WWDC earlier this year, Apple is expected to unveil its first Macs with Apple Silicon at its "One More Thing" event on Tuesday, November 10.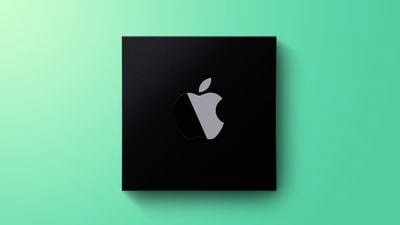 Apple's custom chips are Arm-based and similar to the A-series chips used in its iPhones and iPads. But what tangible benefits can ‌Apple Silicon‌ offer in the Mac, and why should customers be interested in it?

Speed
Better performance is the company's main goal with ‌Apple Silicon‌. Apple's A-series chips have been industry-leading for performance, with devices such as the iPad Pro repeatedly outperforming many consumer-level PCs. Apple has made huge gains in processor performance over the years, and its chips are now powerful enough to be used in Macs.
While it is too early to say exactly how powerful ‌Apple Silicon‌ in the Mac could be, Geekbench benchmarks of the Developer Transition Kit suggest that the A12Z-based ‌Mac mini‌ has average single-core and multi-core scores of 811 and 2,781 respectively. Geekbench is running through Apple's Rosetta 2 transition layer, so slower performance than the A12Z chip in the ‌‌iPad Pro‌‌ is to be expected.

Apple's A12Z under Rosetta 2 outperforms Microsoft's Arm-based Surface Pro X in Geekbench performance, running x86_64 code in emulation faster than the Surface Pro X can run an Arm version natively.
It is highly likely that ‌Apple Silicon‌ in the Mac will be much faster than the A12Z due to higher thresholds for thermals and power consumption.

Power Consumption
Apple is aiming to deliver the highest possible performance with the lowest possible power consumption. Apple has years of experience with power-efficient chip design thanks to its work on the iPhone, iPad, and Apple Watch, all of which use custom-designed chips developed by Apple engineers.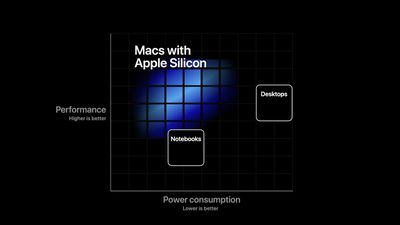 Apple says its own chips will achieve a new level of performance while also being more energy-efficient. In practice, this could facilitate much longer battery life on portables such as MacBooks, and much more efficient use of energy on desktops like the iMac.

Common Architecture
With Apple designing its own chips for iOS devices and Macs, there will be a common architecture across all Mac product lines, which will make it easier for developers to write and optimize software that runs on all Apple products.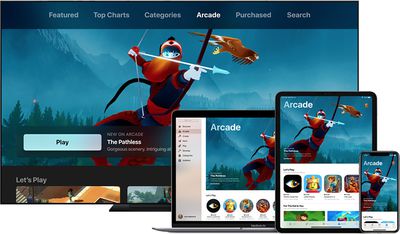 In fact, apps designed for the ‌‌iPhone‌‌ and the ‌‌iPad‌‌ will run on ‌Apple Silicon‌ natively when the first Mac with an Apple-designed chip is released, and those apps will be available for download directly from the Mac App Store.

Security and Integrated Technologies
In designing its own chips, Apple is able to include a range of custom technologies to further boost the Mac's capabilities and make it stand out from the competition.
Apple's A-series chip packages already include custom-built GPUs, Secure Enclave, memory and storage controllers, machine learning processors, Image Signal Processing, custom encryption, and more, all of which will likely be carried over to Mac processors.
‌Apple Silicon‌ chips will likely be built with Neural Engines and Machine Learning Accelerators to make Macs ideal platforms for machine learning. Other potential technologies include a high-quality camera processor, performance controller, high-performance DRAM, unified memory, and cryptography acceleration.
Apple's custom chips are expected to provide best-in-class security with the Secure Enclave and high-performance graphics capabilities for pro apps and games, but the true performance gains and specific integrated technologies remain to be seen.

Regular Improvements
Apple has been using Intel's chips in its Mac lineup since 2006 after transitioning away from PowerPC processors, which has meant that Apple has been subject to Intel's release timelines, chip delays, and security issues, which have, at times, negatively affected Apple's own device release plans.
Swapping to in-house chips lets Apple release updates on its own schedule and with more regular technology improvements. Apple is also able to further differentiate its devices from competing products with tight integration between software and hardware, similar to its iOS platform and A-series chips.
Tuesday's Apple event is expected to see the announcement of two or three new Macs with ‌Apple Silicon‌ processors, including a 13-inch MacBook Pro, a 13-inch MacBook Air, and potentially a 16-inch ‌MacBook Pro‌.
Update: Apple has confirmed that Macs with ‌Apple Silicon‌ can still run Intel apps, even if the developers do not specifically update them for ‌Apple Silicon‌, thanks to Rosetta 2, which is a translation process that runs in the background and is invisible to the user.
Rosetta 2 translates existing Intel apps so they work on Macs equipped with ‌Apple Silicon‌ as expected. Apple has demoed Rosetta 2 with apps and games and there is no difference between running an Intel app on an Intel machine and on an ‌Apple Silicon‌ machine. All of the features work and the software is just as fast.
Apple has also developed a new Universal 2 binary that works on Intel Macs and Macs built on ‌Apple Silicon‌ so developers can still support Intel Macs with a single binary for all users.