Apple Reports 4Q 2020 Results: $12.7B Profit on $64.7B Revenue
Apple today announced financial results for the fourth fiscal quarter of 2020, which corresponds to the third calendar quarter of the year.
For the quarter, Apple posted revenue of $64.7 billion and net quarterly profit of $12.7 billion, or $0.73 per diluted share, compared to revenue of $64.0 billion and net quarterly profit of $13.7 billion, or $0.76 per diluted share, in the year-ago quarter. Apple set a new record for September quarter revenue, as well as all-time quarterly records for Services and Mac revenue.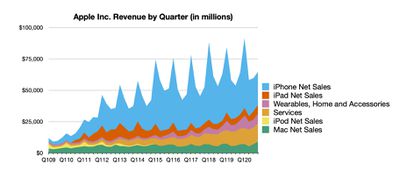 Gross margin for the quarter was 38.2 percent, compared to 38.0 percent in the year-ago quarter, with international sales accounting for 59 percent of revenue. Apple also declared a quarterly dividend payment of $0.205 per share, payable on November 12 to shareholders of record as of November 9.
For the full fiscal year, Apple generated $274.5 billion in sales with $57.4 billion in net income, compared to $260.2 billion in sales and $55.3 billion in net income for fiscal 2019.
"Apple capped off a fiscal year defined by innovation in the face of adversity with a September quarter record, led by all-time records for Mac and Services," said Tim Cook, Apple's CEO. "Despite the ongoing impacts of COVID-19, Apple is in the midst of our most prolific product introduction period ever, and the early response to all our new products, led by our first 5G-enabled iPhone lineup, has been tremendously positive. From remote learning to the home office, Apple products have been a window to the world for users as the pandemic continues, and our teams have met the needs of this moment with creativity, passion, and the kinds of big ideas that only Apple can deliver."
As has been the case for the past several quarters, Apple is once again not issuing guidance for the current quarter ending in December, as considerable uncertainty surrounding the global health situation's impact remains.


Apple will provide live streaming of its fiscal Q4 2020 financial results conference call at 2:00 p.m. Pacific, and MacRumors will update this story with coverage of the conference call highlights.
Apple earnings call recap ahead...
1:44 pm: Apple's stock price is down roughly 4% in after-hours trading following the earnings release.
1:46 pm: Apple did just over $9 billion in Mac revenue during the quarter, smashing the previous record of $7.4 billion set in the first fiscal quarter of 2019.
1:48 pm: iPhone revenue at $26.4 billion was Apple's lowest in a September quarter since 2014, thanks in part to the iPhone 12 launch being pushed back into the December quarter.
1:55 pm: Services revenue of $14.5 billion topped Apple's previous record of $13.3 billion from the second fiscal quarter of this year, while iPad revenue of $6.8 billion was the best since the first fiscal quarter of 2016.
2:03 pm: The call should be starting momentarily. There appear to be some technical difficulties with the conference call and stream.
2:03 pm: "Stand by just a moment."
2:04 pm: Call is starting. On the call are Apple CEO Tim Cook and CFO Luca Maestri.
2:05 pm: Turning the call over to Tim.
2:05 pm: Back in April, I said we were in the most challenging environment in which Apple has ever operated.
2:06 pm: Making difficult calls with limited information has not only come to define Apple's year but has been the case for all of us around the world. We've stayed focused on what we do best.
2:06 pm: "Something new, something creative, something better on behalf of our customers."
2:06 pm: This quarter, Apple achieved revenue of $64.7 billion, a September quarter record, despite the anticipated absence of new ‌iPhone‌ availability in the quarter and closures at many of our retail locations.
2:06 pm: Strong double-digit growth in non-iPhone categories.
2:07 pm: Launched new ‌iPhone‌ models in October, later than last year, and up until mid-September, customer demand for ‌iPhone‌ grew double digits. Services saw stronger than expected performance across the board.
2:07 pm: September record in India thanks to launch of online store in that country.
2:07 pm: Beat internal expectations in China, growing non-iPhone revenues in strong double-digits and ‌iPhone‌ customer demand growing through mid-September.
2:08 pm: Pull back to fiscal year, a testament to team's work and resilience of the business in era of COVID-19. $274.5 billion in revenue, growing 6% year over year. All-time yearly records in Mac, wearables and accessories, and services. Grew double-digit in every category outside of ‌iPhone‌.
2:09 pm: We not only launched our most compelling generation of hardware, software, and services ever, but we did it in a way that pushed us to reimagine every part of that innovation process, from how we share these products with the world to how we get them to our customers' hands.
2:09 pm: The team rebuilt every part of the plane while it was midair and the results speak for themselves.
2:10 pm: Cook now praising the retail and customer support teams for being flexible and innovative this year.
2:11 pm: Now talking about the company's anti-COVID efforts, and donations to racial justice fund and other nonprofit work.
2:11 pm: In a typical year, the back-to-school season is a bustling time for us. This year that was true in the biggest way ever.
2:12 pm: Started 9 of 10 school district deployments this year that alone will support more than 1,000,000 students and teachers.
2:12 pm: Looking forward, we feel great optimism about the road in front of us. We're in the midst of the most prolific product introduction period ever. In addition to HomePod mini, we just marked the beginning of a new era for ‌iPhone‌ with the arrival of our first 5G-enabled devices.
2:13 pm: He's now reciting ‌iPhone 12‌ features and benefits.
2:14 pm: And Apple Watch Series 6.
2:14 pm: Government of Singapore and Apple launched a new program to help encourage healthy behaviors with Apple Watch.
2:15 pm: Now Apple One (launching tomorrow) and Apple Fitness+.
2:16 pm: Without giving away too much, I can tell you that this year has a few more exciting things in store.
2:16 pm: I want to offer one more comment on resilience. If I had to describe our quarter in a single word, it's resilient. I don't think this year will be one any of us look back on with great fondness or nostalgia.
2:17 pm: There is the great pain of a lost loved one, the uncertainty and fear of a lost job, and a deep well of concern for people we care about who we are not able to see.
2:18 pm: Teams and colleagues have been leaning on each other more than in normal times. That instinct, that resilience, is an essential part of how we navigate this year. A shared sense of purpose goes a long way. A belief that we can do more together than we can alone. People of goodwill, driven by creativity and passion and that certain itch of a big idea can help people in small ways.
2:18 pm: You never wish for a year like this one, but I could never be prouder of our team.
2:18 pm: Luca coming in to talk more details.
2:19 pm: Fiscal 2020 set new all-time records for revenue, earnings per share, and free cash flow, in spite of an extremely volatile and challenging macro environment.
2:20 pm: Total revenue of $64.7 billion for quarter, up 1% YoY. Very impressive level of performance when we consider that we didn't launch and ship any new ‌iPhone‌ models during the quarter. Outside of ‌iPhone‌, we grew 25% in aggregate and had strong double-digit year-over-year revenue growth in each product category. All-time records for Mac and services, and September quarter record for wearables, home and accessories. September quarter records in the vast majority of countries that we track including US, Canada, Brazil, Germany, France, Italy, Spain, Turkey, Russia, India, Korea, Thailand, Malaysia, and Vietnam.
2:20 pm: Our products, outside of ‌iPhone‌, grew a combined 30% despite supply constraints of Mac, ‌iPad‌ and Apple Watch through the quarter. Through September for ‌iPhone‌, customer demand grew double digits.
2:20 pm: All-time high in aggregate and each major product category for active users.
2:20 pm: $14.5 billion and 16% growth year over year in services.
2:21 pm: 38.2% gross margin, up 20 basis points sequentially due to mix and cost savings.
2:21 pm: Services gross margin was 66.9%, down 30 basis points due to mix.
2:21 pm: $26.4B for ‌iPhone‌ revenue.
2:22 pm: COVID-19 and social distancing impacted store operations, but demand for ‌iPhone‌ remained very strong. Through mid-September, customer demand grew double digits and was well above expectations. Active install base reached new all-time high thanks to exceptional loyalty of customer base and ecosystem. Last survey from 451 Research indicates ‌iPhone‌ customer satisfaction of 98% for 11, 11 Pro and 11 Pro Max combined.
2:23 pm: Services set all-time records in App Store, cloud services, music, advertising and payment services. Also AppleCare.
2:23 pm: New services, Apple TV+, Arcade, News, Card are contributing to user and services growth. Key drivers for services growth continue to be moving in the right direction. Install base continues to grow.
2:23 pm: Number of transacting and paid accounts reached a new all-time high with paid accounts increasing double digits in each geographic segment. Paid subscriptions grew 35 million sequentially.
2:24 pm: Confident to reach and exceed our increased target of 600 million paid subscriptions before the end of calendar 2020.
2:24 pm: Breadth and quality of current services offerings are growing, including ‌Apple One‌ and Apple Fitness+.
2:24 pm: Wearables, Home and Accessories established a new record with revenue of $7.9 billion, up 21% YoY. Records in every geographic segment and each category.
2:25 pm: Wearables business is size of Fortune 130 company. Watch extends reach with 75% of Watch purchasers in September new to the product.
2:25 pm: Mac revenue was an all-time record at $9 billion, up 29% over last year, $1.6 billion above the previous record in spite of supply constraints during the quarter. Strong double digits in each geographic segment and all-time revenue records in Americas and Asia-Pacific and September quarter records in Europe and Japan.
2:26 pm: ‌iPad‌ performance: Revenue of $6.8B, up 46%. Highest September quarter revenue in eight years.
2:26 pm: Both Mac and ‌iPad‌ are incredibly relevant products for our customers in the current environment.
2:26 pm: 93% customer satisfaction for Mac, 95% for ‌iPad‌.
2:27 pm: Active install base for Mac and ‌iPad‌ reached all-time high. In the enterprise market, helping companies grow their business while achieving sustainability goals.
2:27 pm: Now talking about enterprise companies using Apple products to improve operations.
2:28 pm: Turning to cash, Apple ended the quarter with $192 billion in cash plus marketable securities. Issued $5.5 billion in new debt and decreased short-term borrowing facilities by $6.2 billion. Total debt of $112 billion. Net cash of $79 billion.
2:29 pm: $22 billion returned to shareholders. $3.5 billion in dividends and $18 billion of open market repurchases. Retired 3.1 million shares in final settlement of 16th ASR.
2:30 pm: Highlights for fiscal 2020: Revenue grew 6% to $274.5B. Install base of active devices grew in every quarter. Most challenging economic environment we can remember, new revenue records in Americas, Europe, and Asia-Pacific. Earnings per share up 10% to all-time record. Delivered innovative products and services.
2:31 pm: Moving to December, some color on what we're seeing: Given continued uncertainty, we will not be issuing revenue guidance for the coming quarter. Expectations for December for product categories... assuming COVID-related impacts are similar to what we're seeing in October. Shipping ‌iPhone 12‌ and 12 Pro... off to a great start. Preorders for 12 mini and 12 Pro Max next Friday. Given tremendously positive response, we expect ‌iPhone‌ revenue to grow during the quarter despite shipping 12 and 12 Pro four weeks into the quarter and the other two seven weeks into the quarter. All other products in aggregate to grow double digits and services to grow double digits. Gross margin to be similar to most recent quarters.
2:31 pm: For operating expenses, between $10.7 and $10.8 billion. OI&E around $50 million, and tax rate around 16%.
2:31 pm: Board of directors declared cash dividend.
2:32 pm: Q&A time
2:34 pm: Q: Shannon Cross - Tim, talk a bit more about China and in terms of linearity, services in all regions was at an all-time high. Give us an idea of whether you're seeing blowback or benefit from Huawei situation, bit more into trends from China.
A: If you look at China, last quarter and this corner, what we saw was our non-iPhone business was up strong double digits for the quarter. ‌iPhone‌, pre-mid September, that period of time which was bulk of quarter, ‌iPhone‌ was growing from customer demand point of view. Not shipping new iPhones for last two weeks of Septemner makes that number in the aggregate a negative.
Net, underlying business in China was strong and perhaps different from what you might think from stated number. In terms of this quarter, given the explanation for last quarter and the momentum that we've got, and as importantly, given the initial data points that we see on ‌iPhone 12‌ and 12 Pro, though we don't guide to revenue, I would tell you that we're confident that we'll grow this quarter in China. We're very bullish on what's going on there. A little more color on last quarter, we had a much more significant inventory drawdown on the channel side than other regions, so that's one reason why numbers are different from other regions. Additionally, the new products in the year-ago quarter were a higher percentage of ‌iPhone‌ sales than in other regions.
2:35 pm: In terms of the market there, 5G is fairly advanced there. We're very confident there.
2:36 pm: Q: Cadence that you see for 5G adoption/launch, what do you see will be the key driver, subsidies in the US at this point?
A: Want the best experience for ‌iPhone‌ users. We've been collaborating with carriers all around the world to ensure ‌iPhone‌ has great throughput and coverage and battery and call quality. Completed testing on more than 100 carriers in 30 regions, so it's pretty pervasive around the world but granted, it will continue to roll out in more places as carriers expand their coverage. It's just going to get better. Obvious places where it's more ahead than others, but we feel like we are entering at exactly the right time.
2:38 pm: Q: Deutsche Bank - Relative to seasonality, over the last 5 years you're up 50% quarter on quarter, can you beat that with later release?
A: Luca: We're not providing a range for the reasons that I explained, keep in mind a couple of things about this quarter versus the past. The launch timing of the phones is different from the past, so we're launching the new iPhones four weeks into the quarter for two models and seven weeks into the quarter for the other two models. Keep in mind with growth rates. With regard to other product categories, we are expecting to grow double digits across the board for the rest of our products and services. We are incredibly optimistic for what we're seeing so far. A lot of tailwinds for ‌iPhone‌ the entire cycle. Best lineup that we've ever had. Installed base that is very large, continues to grow. All-time high. 5G is once in a decade opportunity. In some markets, carrier offers are very aggressive which is very good for consumers and ultimately very good for us. Very optimistic given what we've seen so far.
2:40 pm: Q: ‌Apple One‌ bundle is desire to bundle in the first place. Why wouldn't you take rationale to bundle to hardware? AirPods and ‌iPhone‌ and Watch... wouldn't it make sense to bundle hardware? Are there benefits to services bundling that don't transfer to hardware bundling.
A: Nothing to announce on a hardware bundle. We do view that people like to pay for their hardware, or some substantial portion of it, monthly. That's why we have installments in stores and online, and that's why you see in some channels selling hardware on per month basis. That begins to look like subscription to some buyers because they're used to holding the phone for a fixed period of time and turning it over and using the residual value of that phone in a way that gives them a subsidy on a new phone. Something today in the market that works somewhat similar. On services side, we have customers coming to us and asking for an easier way to buy all of our services and we wanted to provide that. We're looking forward to tomorrow to getting ‌Apple One‌ out there.
2:42 pm: Q: Katy Huberty - Morgan Stanley: New technologies including the chips that support 5G put upward pressure on costs this year but you manage to leave ASP for iPhones relatively unchanged, how should we think about the margin profile of ‌iPhone 12‌ relative to past ‌iPhone‌ cycles?
A: Luca: Obviously we don't provide any outlook at gross margin level for product categories. In my prepared remarks, we expected total gross margin to be pretty much in line with what we see in last quarters. It's very good because we are offering the new phones at price points that are essentially unchanged and we take on a lot of new technologies into the phones. Commodity environment is good, for the first time in many quarters, I don't have to say that FX is a headwind getting into the quarter. Won't be a factor during the quarter. In our comments, we are bullish about sales performance expectations so we should be getting some leverage. Gross margin dynamics are good and it's very good to see that we're able to offer so much more technology and still able to deliver the level of gross margins that investors are expecting.
2:44 pm: Q: Services... this isn't dependent on any one service but licensing and other historically... when you think about Google antitrust pressure that you see shrinkage in licensing and other segments and opportunities to make up for weakness?
A: As you know, we've announced a number of services over the last couple of years. We're ramping those between ‌Apple TV+‌ and Apple News+ and Apple Arcade, Card, Fitness+, we have a number of services that have been launched a bit longer that are doing really well from the ‌App Store‌ to iCloud. There's a lot of room there and potential there. I have no idea how the DOJ suit will go, but I think it's a long way from a conclusion on it.
2:46 pm: Q: On ‌iPhone‌, you talked about ‌iPhone‌ install base high, sat, replacement cycles are getting elongated, if ‌iPhone‌ users are like me with embarrassingly high weekly usage rates, does that give you better clarity that we could enter extensive period of ‌iPhone‌ revenue growth?
A: We're very bullish on this cycle. As I step back from it, we have for the first time ever launched four iPhones and there is an ‌iPhone‌ for everyone there. It is the strongest lineup we've ever had by far. We have a very large loyal and growing install base and we're also reaching out to switchers and I'm very optimistic there. We have a once-in-a-decade opportunity with 5G. Lot of excitement about 5G. We've got aggressive offers in the marketplace. So when I think about all of those, I am really, I look at the initial data points on ‌iPhone 12‌ and 12 Pro, we are off to a great start.
2:48 pm: Q: Services gross margins, are these levels at 67% sustainable and what do you think of 2-3 factors that are enabling gross margin to remain there going forward?
A: Pleased with gross margins in services. Expanded 300 basis points on a YoY basis. Reason for that, of course we are growing services revenue and getting leverage on a lot of these services. Some of it, as explained in the past, we have a portfolio of services that have different margin profiles. Depending on the mix of products, we can see margin expansion through mix as well. But launching new services, where we need to invest heavily up front, show for example that we've launched a lot of new services, made investments and still able to expand gross margin. We feel quite confident about projection that we have for services and we're very happy to see the customer response to really all of them because as we've mentioned earlier, we've seen revenue record across every category. And, across the entire world. September quarter records in every geography around the world. All the dynamics and levers that we have in the services business are working very well here and that translates to margin.
2:50 pm: Q: With ‌iPhone‌ lineup and carrier subsidies on ‌iPhone‌ sales, some other factors. ‌iPhone‌ was seeing a bump with stimulus checks going out, as we see some things on that front, is macro impacting how you see ‌iPhone‌ sales with new product lineup?
A: Prior to mid-September, we were seeing double-digit growth in customer demand on ‌iPhone‌. There is a lot of momentum there. Still a lot of momentum now given the launch of the 12 Pro and 12. If you're asking whether it could have been even more with a different spending environment, I believe the answer to be yes but you can't run the experiment so I don't know for sure. I suspect that just the COVID in general takes something off from a worldwide economic point of view.
2:51 pm: Q: Potentially looking at second wave which you discussed as well in your prepared remarks, some thoughts into how you're preparing or sourcing from supply chain to prepare for disruption like earlier this year?
A: Doing everything we can do. Prioritizing safety first obviously. With our stores, we've come up with a new concept that essentially turns the store into an express store. Helps with safety of employees and safety of customer. Allows interaction to take place. Put more people on the phones because more people are reaching out to us in that way. Online store has stayed up and running through the whole of this. Everybody to the best of their ability is putting in contingency plans and finding a way to adapt to the environment. Difficult to call and there's a level of uncertainty in it obviously.
2:53 pm: Q: Don't want to give color on gross margin by segment, but gross margin should be similar or grow... on ‌iPhone‌ side, how should we think about the different gross margin levels into December?
A: Positive factors in December thanks to leverage sequentially, and improved mix particularly this year with new ‌iPhone‌. At same time, shouldn't forget that we have launched a lot of new products during the last several weeks. Four new iPhones, new Apple Watch, ‌iPad‌, so clearly every time we launch a new product the cost structure is higher so that is the other side of the coin. We think that those two things should balance out and again, we're accomplishing this while delivering a lot of new technologies and features to our customers. FX is not a factor and that's a bit different from the past, but those are the pluses and minuses.
2:55 pm: Q: Didn't say a lot about payments ecosystem, curious to find out from your vantage point for your payments ecosystem for Apple Card, Apple Pay, Apple Cash and how you're finding FinTech environment.
A: We continue to be enthusiastic about payment services area. ‌Apple Card‌ is doing well, and ‌Apple Pay‌ is doing exceptionally well. As you can imagine in this environment, people are less wont to hand over a card. Contactless payment has taken on a different level of adoption and we'll never go back. US has been lagging in contactless payment and I think the pandemic may well put the US on a different trajectory there so we are very bullish on this area and view that there are more things Apple can do in this space so this is an area of great interest to us.
2:57 pm: Q: Supply chain given later start for manufacturing for ‌iPhone‌ lineup this year, will supply be able to meet demand through calendar year and are there component shortages or actions you can take to increase weekly output vs last year?
A: If you look at ‌iPhone‌, we are constrained today. Not a surprise at front end of the ramp, and how long we'll be constrained it's hard to predict. We haven't taken orders yet for iPhone 12 mini or Pro Max, so those are coming and we shall see. Right now we are supply constrained and for avoidance of confusion, we're constrained on Mac and ‌iPad‌ and some Apple Watches. A fair number of areas right now of focus and we're working really really hard to remedy those as quickly as we can. At this point, I can't estimate when we'll be out of that.
2:59 pm: Q: How do you think about durability of strength with Mac and ‌iPad‌? Stronger than seasonal pullback after back to school and holiday? Supply constraints make it seem strong demand trends will continue but what should we think about seasonality into December and March?
A: We placed our thoughts in the color that Luca provided when he said that all products excluding ‌iPhone‌ would grow in double digits. We continue to be bullish on what Mac and ‌iPad‌ can do. I think the moves that have taken place to remote learning and remote work are not going to go back to normal. Normal will become something different because I think people are learning that there are aspects of this that work well and I don't believe we'll go back to where we were. I think that means iPads and Macs are even more important in those environments. The growth in both of these last quarter were phenomenal. Mac at 29 and ‌iPad‌ at 46. These are tremendous numbers and as Luca said, the September quarter was the all-time high for Mac in the history of the company and not by a little bit but by $1.6B. A substantial difference. Had an aggressive promotion for college students going back to school and that was invariably part of it but the other part of it, the remote work thing, is not something that's going to snap back to the way it used to be any time soon.
3:01 pm: Q: Gap between 12 and 12 Pro is smaller and that's after you made adjustments?
A: ‌iPhone 12‌ family starts at $699 in many places. Deals that people are really paying are very different than that because a lot of people in this country and several others in the world connect to a carrier plan and those offers are much more aggressive. The price that customer is paying is more important one. We have no data other than 12 and 12 Pro, lack data on 12 mini and Pro Max because we're not taking orders yet. What we always do in pricing is give the customer a great value and we've done that this year despite the extra features that we placed into the phones including 5G.
3:03 pm: Q: Carrier subsidies in the US, in the years ago, carrier incentives were a lot larger but does this represent a shift for carriers into other geographies? Is this something that we expect as they go from switchers or higher incentives from carriers?
A: Don't want to speak for carrier partners. Generally I think it's to the vast majority of carriers around the world to their interests to move customers to 5G and I think it's in the customer's interest to move to 5G. Obviously we like that as well. Situation where everyone is oaring in the same direction. That's a very different kind of situation than normally we would have. It is one of the things that I alluded to that makes me very bullish. The other things are very important too, size of install base, the product lineup, these things are critically important as well.
3:03 pm: We're wrapped up.