Full Transcript of Apple's 'Time Flies' Event With Apple Watch and iPad Updates
Apple's virtual "Time Flies" event kicks off today at 10:00 a.m. Pacific Time, with Apple expected to debut new Apple Watch and iPad models, but it appears we may not see the iPhone 12 until next month.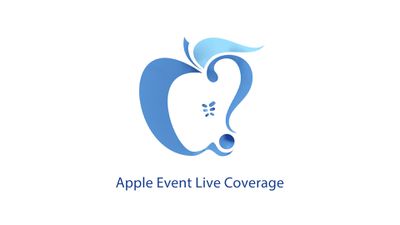 While we're not expecting to see new iPhones today, Apple's software updates for its various platforms are likely nearly ready for launch, so we may be hearing more about them today. Check out our what to expect guide for more details on other announcements we could see, including "Apple One" subscription service bundles and some wildcard possibilities like AirTags item trackers.
Apple is providing a live video stream on its website, on YouTube, and in the company's TV app across its platforms. We will also be updating this article with live blog coverage and issuing Twitter updates through our @MacRumorsLive account as the keynote unfolds. Highlights from the event and separate news stories regarding today's announcements will go out through our @MacRumors account.
Live blog transcript ahead...
8:51 am: We're a little over an hour away from the start of the event, and Apple's online store has been down for several hours now. New Apple Watch and ‌iPad‌ models are expected to be the main attraction today, but we'll likely see some other announcements. With no media in attendance, today's event is likely to be a pre-recorded affair from various settings at Apple Park, similar to the WWDC keynote back in June.
9:54 am: With five minutes to go, the stream is live on Apple.com and there are more than 350,000 people standing by for the YouTube stream to start.
9:59 am: The YouTube stream is now live as well, with more than 450,000 viewers: //www.youtube.com/watch?v=b13xnFp_LJs
10:00 am: Indistinct bell-type music is playing. It is now 10AM, and we're off!
10:02 am: Apple CEO Tim Cook is welcoming everyone in a pre-recorded greeting from ‌Apple Park‌.
10:02 am: "We know that life won't always be like this and we're all looking forward to better days."
10:02 am: Focusing on two products playing integral roles in people's lives: Apple Watch and ‌iPad‌

10:03 am: Today, it's incredible what Apple Watch enables you to do right from your wrist.

10:04 am: Now talking about stories from actual Apple Watch users who had their lives changed by the Watch.
10:05 am: Hearing directly from Apple Watch users, now. "Dear Apple, my name is Kate..."
10:05 am: Kate's Apple Watch talks to her insulin pack, allowing her to focus on competing in track and field instead of finger pricks and other tests.

10:06 am: Another user who saw an "increased heart rate" alert, and rushed to the hospital as he was having cardiac arrest. "I'm thankful for that device that saved me."
10:07 am: Mount Sinai launched "Warrior Watch" study, to study the impact of COVID on the psychological well-being of front-line health care workers, especially their mental health. Singapore will offer incentives to citizens to use Apple Watch to stay healthy and active.
10:08 am: "This year, we're going to take it even further."
10:08 am: Flying to the Steve Jobs theater to hear Apple COO Jeff Williams talk more about Apple Watch.

10:09 am: Talking about measuring VO2 Max levels, and how Watch OS 7 can measure VO2 Max. Coming later this year, you can receive warnings for low VO2 max levels.

10:10 am: Showing new Apple Watch Series 6.
10:10 am: New blue aluminum case, updated classic gold stainless steel. Graphite stainless steel. Apple Watch Product Red.

10:10 am: New health sensor on-board which allows for measuring Blood Oxygen.

10:12 am: With Apple Watch Series 6, you can measure your blood oxygen right from your wrist. Advanced algorithms measure the color of your blood to measure Blood O2. Takes a measurement manually in 15 seconds, plus periodic background readings, including while you sleep.

10:12 am: Sumbul Ahmad Desai, MD, an Apple executive, talking about the health tools in the Apple Watch and the benefits of measuring Blood Oxygen.
10:14 am: Three new Health Research studies using Blood O2, including studying asthma, heart failure, and flu/covid studies.
10:14 am: "We're so excited to bring this important new health capability to our users."

10:14 am: New, sixth-generation S6 system-in-package. Up to 20% faster than previous generation.
10:15 am: Series 6 has 2.5x brighter outdoor always-on display. And always-on altimeter.

10:16 am: Now discussing new Watch faces.


10:18 am: Watch faces have always been a great way to personalize your Apple Watch. But so are watch bands. Now there's a "Solo Loop" watch band.

10:18 am: No clasp, no buckle, no overlapping buckle, just one continuous piece made from custom liquid silicone. Stretchable to slip on and off. Durable and swim proof. Available in a range of sizes to find the best fit. Seven colors.

10:19 am: "So comfortable, we did another version called the braided solo loop." Recycled yarn, available in five colors. New take on leather band with new leather link. Updates to Apple Watch Nike with new colors, and a new Hermes band.

10:19 am: Two additional things to make Apple Watch available to new people. New way for families to use Apple Watch.
10:20 am: Apple Watch needs to pair with an ‌iPhone‌ currently, but now Family Setup allows users to pair watches for children or older members of household who might not have their own iPhones.

10:20 am: Parents can specify who kids can call, and set up automatic location notifications.

10:21 am: "Schooltime Mode" sets up Do Not Disturb with restricted interaction and a special watch face.
10:21 am: Cellular model of Series 4 and later with a number of carriers and regions, with more coming.
10:22 am: New Apple Watch model that combines Series 6 design with more affordable price. Apple Watch SE.

10:23 am: Uses largest 44mm Watch display. S5 chip (from last year). Cellular and non-cellular models available. ‌Family Setup‌ with Cellular model. SE has same accelerometer, gyroscope, altimeter as Series 6. Supports fall detection.

10:23 am: SE starts at $279, with 24-month Apple Card financing available.
10:23 am: Series 6 starts at $399. Series 3 sticks around starting at $199.



10:25 am: Now talking about the recyclability of Apple Watch and Apple's pledge to stay carbon neutral.

10:26 am: "Removing the USB power adapter from Apple Watch."
10:27 am: Order today, available starting this Friday.

10:27 am: Showing a new video.
10:29 am: "The future of health is on your wrist." A great ad. Hard to describe. Just go watch it!
10:29 am: "We've been working on something to motivate you even more on your fitness journey."

10:30 am: One of the most popular apps is the Workout app.
10:30 am: Creating amazing workouts with incredible music delivered by the world's best trainers. The first fitness service built around Apple Watch.

10:30 am: Fitness+
10:30 am: Any screen, anywhere, any time. Metrics on-screen powered by the watch. Ten workouts.
10:31 am: Set workout, trainer, time, music.

10:32 am: Apple Fitness+, powered by Apple Watch "in really cool ways." Apple Watch owners love seeing metrics on their wrist during a workout. Sensors show heart rate, calories, pace and distance. That data helps keep you motivated and on track. Fitness+ chooses workout from catalog of videos on ‌iPhone‌, ‌iPad‌, or Apple TV. Starts correct video in Apple Watch workout app. Sends metrics to screen you're viewing the workout on.

10:33 am: When trainer reminds you to check heart rate, the numbers get larger. In a tough interval, you see a countdown timer to motivate. Activity ring progress in the corner. If you close your rings, it'll show it in real time on the screen. When workout is over, comprehensive summary.

10:33 am: Fitness+ launching with most popular workout types. Yoga, Cycling, Dance, Treadmill Walk and Treadmill Run, Strength, Core, HITT, Rowing, and Mindful Cooldowns.
10:33 am: Any brand of equipment or no equipment at all.
10:34 am: Flexibility to do workout you love where you want and when you want. Each week, trainer team will deliver wide variety of workouts from the Fitness+ studio. Fresh new workouts every week across a range of times and instructors. Best music to keep motivated, regardless of musical taste.
10:35 am: If you're an Apple Music subscriber, can save playlists from Fitness+ to ‌Apple Music‌. Beginner program built-in for new exercisers.


10:36 am: We think Fitness+ will take your workouts to the next level with convenience, expert coaching, and inspiration. "We've designed Fitness+ with privacy in mind." $9.99/month or $79.99/year. Share with family members. Australia, Canada, Ireland, NZ, US, UK available before the end of the year. Get 3 months free with an Apple Watch purchase.

10:37 am: Now talking about Apple's service offerings. Launching ‌Apple One‌, including all Apple's services in one plan.
10:38 am: iCloud, ‌Apple Music‌, Apple TV+, Apple Arcade, Apple News+, Apple Fitness+
10:38 am: Find the One plan that's right for you. Individual for $14.95 for ‌Apple Music‌, TV+, Arcade, 50GB of ‌iCloud‌
Family for $19.95/month includes 200GB of ‌iCloud‌.
Premier for $29.95/month, with 2TB of ‌iCloud‌ plus Music, TV+, Arcade, News+ and Fitness+

10:39 am: Now talking about ‌iPad‌.
10:40 am: Ten years since the first ‌iPad‌ shipped.
10:40 am: Sold more than 500,000,000 iPads.
10:40 am: 53% of ‌iPad‌ buyers are new to ‌iPad‌. #1 in customer satisfaction for ten straight years.
10:40 am: "This is a big year for ‌iPad‌." Earlier this year, we made some great updates to iPad Pro.
10:41 am: Today, we're updating the rest of the full-size ‌iPad‌ lineup.
10:41 am: Taking design and cranking up performance with ‌iPad‌ 8th Generation.
10:41 am: A12 Bionic chip.
10:42 am: 40% faster CPU and 2x faster graphics.

10:42 am: 2x faster than the top-selling Windows laptop, and 3x faster than top selling Android tablet, 6x faster than top-selling Chromebook.
10:43 am: Neural Engine.
10:43 am: ‌iPad‌ 8th Gen supports full-size Smart Keyboard plus existing other third-party keyboards, as well as Apple Pencil.
10:44 am: Showing off ‌iPad‌ OS 14, which we saw earlier this year.


10:46 am: New ‌iPad‌ starts at $329, or $299 for education customers.
10:46 am: Order today, available starting Friday.
10:47 am: iPad Air, next.
10:47 am: All-new, completely redesigned ‌iPad Air‌.
10:47 am: All-screen ‌iPad‌ Pro-esque design.

10:48 am: Thin and light enclosure with narrow border design.

10:49 am: Five colors, including new Rose Gold, Green, and Sky Blue.
10:49 am: Liquid Retina display in same footprint with 10.9-inch screen. 2360x1640. 3.8M pixels.
10:49 am: Full lamination, True Tone, antireflective coating, P3 wide color.

10:49 am: Touch ID integrated into top button.
10:50 am: Same performance, ease-of-use, and security.

10:50 am: Touch top button to unlock the device, log in to apps, or use Apple Pay.
10:50 am: New chip for ‌iPad Air‌, the A14 Bionic.
10:51 am: Build chips with industry-leading performance, powerful custom technologies, and efficient use of energy.
10:51 am: First in the industry to use 5nm process technology.
10:51 am: Dimensions of transistors are measured in atoms. 11.8 billion transistors.
10:52 am: 40% faster CPU compared to previous ‌iPad Air‌.

10:52 am: Maximum performance at lowest power. Industry-leading peak performance when it's needed.
10:53 am: 2x faster graphics performance than comparably priced Windows notebook.

10:53 am: Faster neural engine to improve machine learning performance by 2x.

10:55 am: Talking about new apps that take advantage of the new hardware.

10:55 am: Djay Pro AI lets users "scratch" in the air, using the front-facing camera to allow DJs to virtually play records.
10:56 am: "We can build intelligent features into the app. The possibilities are just endless with this."
10:57 am: USB-C comes to ‌iPad Air‌.
10:57 am: Front 7MP FaceTime HD. Rear 12MP camera.

10:57 am: Redesigned speaker with stereo audio in landscape mode.


10:59 am: Showing a product video illustrating all the technologies they just mentioned.
11:00 am: Starts at $599, available next month.

11:00 am: Talking up the environmentally friendly design and packaging.
11:01 am: "What a great day of announcements." Major OS updates coming tomorrow.
11:02 am: iOS 14, ‌iPad‌ OS 14, Watch OS 7, and tvOS 14.
11:02 am: Products will ship with these OS updates.

11:03 am: The event is wrapped, thanks for joining us!