AirPods Pro Launching on October 30 for $249
Apple today announced that it is releasing new AirPods Pro earbuds on October 30. As rumored, updated new accessory features an all new-design with an AirPods-style shape and silicone ear tips to support active noise cancellation technology, along with a $249 price point.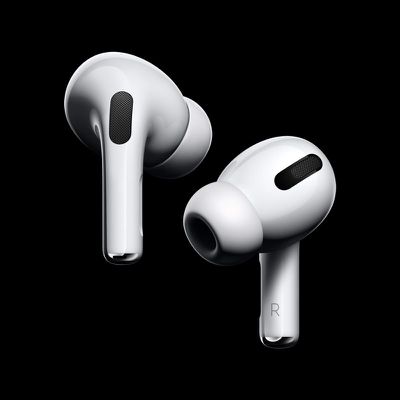 Apple says that the AirPods Pro have been engineered for "comfort and fit" and each earbud ships with three different sizes of silicone ear tips that conform to the contours of the individual ear, offering up a comfortable fit and a "superior seal."
Apple has designed an Ear Tip Fit Test to make sure that users get the best audio experience. After putting the ‌AirPods Pro‌ in each ear, Apple's software will leverage the built-in microphones to measure the sound level in the ear and compare it to what's coming from the speaker driver. Apple says that in just seconds, its algorithm will be able to tell whether the ear tip is the right size and has a good fit or should be adjusted for a better seal.


Inside, there's an "innovative vent system" that's designed to equalize pressure to minimize discomfort common with other in-ear designs. Apple also says that the ‌AirPods Pro‌ are both sweat and water resistant with an IPX4 rating. That means they'll hold up to some light splashing and sweating, but submersion should be avoided.
Despite rumors of multiple color options that include black and green, it appears that Apple is selling the ‌AirPods Pro‌ only in white. Due to the larger in-ear design, the ‌AirPods Pro‌ also feature a larger, redesigned charging case to accommodate them.
"AirPods are the best-selling headphones in the world. The one-tap setup experience, incredible sound and iconic design have made them a beloved Apple product, and with AirPods Pro, we're taking the magic even further," said Phil Schiller, Apple's senior vice president of Worldwide Marketing. "The new in-ear AirPods Pro sound amazing with Adaptive EQ, fit comfortably with flexible ear tips and have innovative Active Noise Cancellation and Transparency mode. We think customers are going to love this new addition to the AirPods family."
The AirPods feature an Active Noise Cancellation feature that uses two microphones (one outward facing to detect environmental noise and one inward facing towards the ear) combined with "advanced software" to adapt to each ear and headphone fit and customize sound signal 200 times per second. Apple says that this setup removes background noise for a "uniquely customized, superior noise-canceling experience."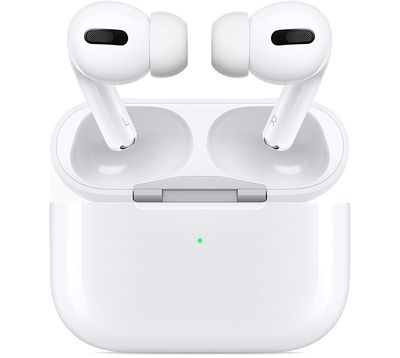 A built-in Transparency mode offers users the option to listen to music while still hearing the environment around them, for situations like biking in traffic or listening for an important train message. Transparency mode takes advantage of the vent system in the AirPods to leave just the right amount of noise cancellation.


Swapping between Active Noise Cancellation and Transparency mode can be done using a new force sensor system that Apple has added to the stem of the ‌AirPods Pro‌. This force sensor can also be used to play, pause, or skip tracks and answer and hang up phone calls. The mode can also be controlled through the Control Center on iPhone and iPad, or by tapping the AirPlay icon on Apple Watch while music is playing.


According to Apple, ‌AirPods Pro‌ have been engineered to deliver superior sound quality with Adaptive EQ, a feature that automatically tunes the low and mid frequencies of the music to the shape of an individual's ear for what Apple says is a "rich, immersive listening experience."
There's a custom high dynamic range amplifier that's able to produce clear sound while also extending the ‌AirPods Pro‌ battery life, plus it powers a custom high-excursion, low-distortion speaker driver designed to optimize audio quality and cut down on background noise.
‌AirPods Pro‌ are equipped with the Apple-designed H1 chip featuring 10 audio cores able to power real-time noise cancellation and deliver high-quality sound while also processing "Hey Siri" commands. Battery life is the same as the AirPods 2, lasting for up to five hours in standard mode. When Noise Cancellation is active, ‌AirPods Pro‌ offer up to four and a half hours of listening time and three and a half hours of talk time.


The H1 chip also supports hands-free "Hey ‌Siri‌" commands and it allows for Audio Sharing so two people who have ‌AirPods Pro‌ can watch the same movie or listen to the same song with an ‌iPhone‌ or ‌iPad‌.
The included Wireless Charging Case (which does indeed support Qi-based wireless charging) can deliver more than 24 hours of listening time and over 18 hours of talk time. A USB-C to Lightning cable is also included in the box for charging purposes.
The ‌AirPods Pro‌ can be ordered immediately from Apple.com and the Apple Store app and will be arriving to Apple retail locations on Wednesday, October 30. The first orders are offering up Thursday, October 31 arrival dates.
Apple plans to continue to sell the AirPods with Charging Case ($159) and the AirPods With Wireless Charging Case ($199) alongside the ‌AirPods Pro‌.