Apple Pay Now Accepted for iTunes, App Store, Apple Music, and iCloud Purchases in Some Countries
Apple Pay is now an accepted payment method for iTunes, App Store, and Apple Books purchases, as well as Apple Music and iCloud storage subscriptions, as reflected in a recently updated Apple support document.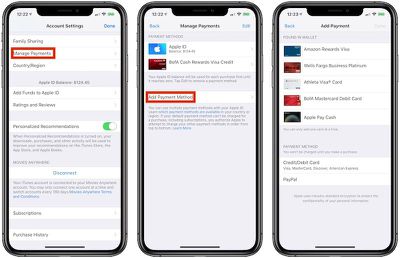 To link any credit or debit cards set up in the Wallet app with your Apple ID account, navigate to Settings > iTunes & ‌App Store‌. Next, select your ‌Apple ID‌ email and then tap View ‌Apple ID‌ > Manage Payments > Add Payment Method. The cards should be listed under a new "Found in Wallet" section.
This functionality is rolling out as a server-side change in the United States, Canada, Australia, Singapore, Hong Kong, Taiwan, Russia, Ukraine, and the United Arab Emirates, so it is not available for all users yet.
In the United States, users can also link an ‌Apple Pay‌ Cash card to an ‌Apple ID‌ account.
There are a handful of benefits to ‌Apple Pay‌ billing for ‌Apple ID‌ account-tied purchases, including the ability to conveniently add multiple credit or debit cards, the improved security of ‌Apple Pay‌, and the ability to better manage ‌Apple Music‌ and ‌iCloud‌ storage subscriptions from the Wallet app.
This functionality arrives ahead of the launch of the Apple Card credit card in the United States this summer.
(Thanks, Dean Lubaki!)