Nintendo Asks Developer Partners to Cut Back on In-App Purchases for Fear of Tarnishing the Brand
Nearly four years to the day since Nintendo announced it would be bringing its popular characters to iPhone and iPad, the company is now fearing how app-based microtransactions could be tarnishing its brand. According to a report by The Wall Street Journal, Nintendo is going so far as to ask its developer partners to "adjust" its games so that players don't spend too much on in-app purchases.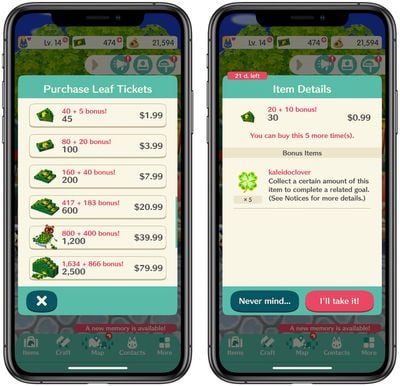 One Nintendo official reiterated that the company uses its smartphone games to entice players into purchasing full-fledged console titles. Now, according to the unnamed official, Nintendo is concerned that it could be criticized for being greedy in the smartphone gaming market, ultimately hurting the company across divisions.
As for individual games, Nintendo's plan is already affecting certain titles. Dragalia Lost developer CyberAgent slashed its fiscal year earnings forecast for the first time in 17 years, reportedly due in part to the game's underperformance. Although it has a lot of players downloading and interacting with the app, "revenue from each player has fallen short of projections," seemingly tied to Nintendo's new strategy.

"Nintendo is not interested in making a large amount of revenue from a single smartphone game," one CyberAgent official said. "If we managed the game alone, we would have made a lot more."
For DeNA, the original smartphone developer partner with Nintendo, the mobile gaming business is said to be in a "slump." Chief Executive Isao Moriyasu reported last month that many of the company's mobile games were struggling except for an original title it created alone called "Megido 72."
Nintendo's smartphone gaming business has definitely seen its ups and downs. The company started with the debut of Miitomo in March 2016, introducing a social game where players could interact with their friends, dress up a custom Mii, and play mini games. After a lukewarm-to-negative reaction from players, Miitomo was shut down two years later in May 2018.
In December 2016, Nintendo debuted Super Mario Run for iOS devices, its first smartphone game with a major IP attached to it, and the first (and as of now only) full-priced Nintendo app. Nintendo returned to free-to-play with Fire Emblem Heroes in February 2017 and Animal Crossing: Pocket Camp in November 2017.
Over the years, many reports have attempted to dissect the success of each Nintendo app, and the consensus appears to be that Super Mario Run's pay-once structure has paled in comparison to the ongoing success of the free-to-play titles. In particular, Fire Emblem Heroes has been frequently touted as Nintendo's most successful mobile game to date, breaking the $500 million player spending mark on its two year anniversary, despite being based on an IP that's not quite as well known as Mario.
Despite the success of the free-to-play model and the confirmation that the next Nintendo games -- Dr. Mario World and Mario Kart Tour -- will be free-to-play, Nintendo has said that it prefers the payment structure of Super Mario Run to in-app purchases. Shigeru Miyamoto has echoed this week's report in the past, asking the gaming industry to stop "nickel-and-diming" players, and promising that Nintendo will continue pushing for pay-once mobile apps into the future.