Apple Cracking Down on Developers Spamming the App Store With Duplicate Apps
Just one day after exposing a handful of developers spamming the App Store with duplicate VoIP apps, a clear violation of the ‌App Store‌ Review Guidelines, TechCrunch reports that Apple has removed many of the apps from the ‌App Store‌.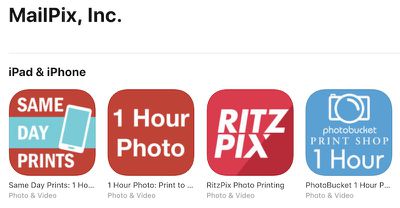 However, the report notes that plenty of duplicate apps remain available in other categories, such as photo printing. MailPix Inc., for example, has released three different apps that all offer same-day photo printing at nearby CVS or Walgreens locations. All three apps appear to be virtually identical in functionality.
By releasing duplicate apps on the ‌App Store‌, developers are able to game the search results by using different names, categories, and keywords.


As the report mentions, the primary issue here is that Apple is not consistently enforcing its App Store Review Guidelines, which warn developers that "spamming the store may lead to your removal from the Developer Program." This can lead to an unfair playing field for developers who do abide by the rules.
With millions of apps on the ‌App Store‌, it is likely that quite a few other duplicate apps have slipped through the cracks, but hopefully the increased awareness results in Apple cracking down more on these rule-breaking developers.