The United States Patent and Trademark Office today granted Apple a patent related to a "Case for wearable electronic device," and it's described as an accessory that would let users charge their Apple Watch while on the go while also storing a few extra bands (via Patently Apple). Similar to portable battery packs, or Apple's own AirPods case, users would charge the Apple Watch case itself, and then when traveling they could place their Apple Watch within the case to recharge it.
In the patent's images, the case appears rectangular in shape, with the left side housing two rows for two pairs of Apple Watch bands, while the right side has a cutout for the Apple Watch case. In this particular patent, users would have to remove the bands to charge the Apple Watch and then store them next to it. According to the patent, there would be an "attachment system" -- magnets are suggested -- so that bands of "different geometry" would all still be secure within the case.


The patent specifies that the case would be able to store bands "having multiple segments," like Sport Bands, and bands "having a single segment," like Milanese Loop.

Case 200 can be used, for example, as a travel case to store a wearable electronic device and one or more bands that can be used to secure the wearable electronic device to a user's wrist. As shown in FIG. 2, case 200 is designed to hold a single wrist-worn electronic device 230 along with first and second bands 232 and 234 either one of which can be used to attach wrist-worn electronic device to a user's wrist.

Each of bands 232 and 234 includes first and second band segments (e.g., segments 234a, 234b of band 234) that can be connected together by a clasp or other type of connector (e.g., clasp 116 shown in FIGS. 1A, 1B), and each band segment includes a lug (not labeled) at one end. Embodiments of the disclosure can store bands having multiple segments, such as bands 232, 234, as well as bands having a single segment.
Apple's patent even suggests the case could charge a "smart band," which would include some form of circuitry and have abilities that supplement the Apple Watch with additional sensors or extra battery. Smart bands have been unearthed previously in Apple patents dating back to 2016, as well as in rumors claiming knowledge of the company's plans from spring 2017, but we have still yet to see such a product debut from Apple.
Some accessory makers have had trouble launching smart bands for Apple Watch, and in 2016 when Apple's watchOS 2.0.1 update blocked off third-party band manufacturers from taking advantage of the accessory port to fuel the abilities of such bands, the "Reserve Strap" was left defunct.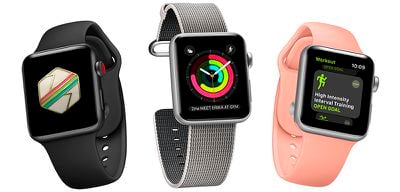 In regards to today's patent, it would otherwise appear to function similar to the Apple Watch's existing induction charging puck, allowing users to simply place the wearable device inside the case's cradle, close it to protect the screen, and charge it up before wearing it again. The patent doesn't specifically divulge how many additional charges could be added onto the Apple Watch, but it does state that Apple has gone through a few embodiments of the case adding or removing additional band storage to make it slightly larger or smaller, apparently settling on storage for two bands in this iteration.
There are many portable third-party Apple Watch charging solutions on the market today, but some have downsides for users wanting to charge Apple Watch while traveling. Twelve South's TimePorter case, for example, lets users store a few bands and the Apple Watch charging puck, but it charges the Apple Watch on the outside of the case, so it isn't great for charging in a bag or suitcase.
As with any patent, Apple's Apple Watch charging case may never become available for users to purchase, but it is interesting to see what the company is considering to launch alongside future generations of the Apple Watch.