Future Apple Watch Rumored to Include Glucose Monitoring and Smart Bands
Apple is planning major new health features for future versions of the Apple Watch, according to a new report from BGR citing sources with knowledge of Apple's plans.
The company is said to be working on implementing a new glucose monitoring feature and interchangeable smart bands, which could add new health functionality to the Apple Watch. Both features have been previously rumored in the past, but BGR suggests the functionality could be coming soon.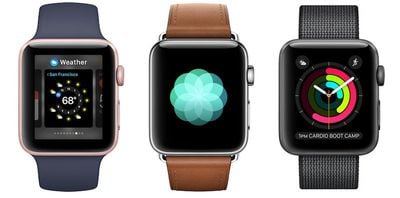 It has been rumored that Apple is interested in glucose monitoring, and it appears that the time may now be right. Previous rumors have stated that Apple might only be able to achieve this through a separate device that might complement the watch, however BGR has learned that this might not be accurate.
In April, a CNBC report suggested Apple had a team of biomedical engineers working to develop sensors for non-invasively monitoring blood glucose, with work on the sensors far enough along that the company had started conducting feasibility trials. BGR claims Apple has hired more than 200 PhDs in the health field in the last year with the aim of "innovating in the health space" through a glucose monitoring feature that will be released in an "upcoming Apple Watch."
The site also says Apple is working on interchangeable "smart watch bands" that would add "various functionality" to the Apple Watch, allowing Apple to introduce new features without driving the base cost of the wearable device higher. Glucose monitoring could perhaps be introduced through one of these smart bands, rather than added to the watch itself.
A smart watch band with such functionality makes some sense, as Apple CEO Tim Cook has said previously that Apple does not want to put the Apple Watch through the FDA approval process, something that would likely be required for the introduction of a glucose monitoring feature. A standalone band would allow Apple to get the approval it needs without impacting the base device.
Along with glucose monitoring, BGR says that an Apple Watch band that adds a camera to the watch is another possibility, as is a battery band that extends available battery life. Apple has filed multiple patents covering modular smart bands for the Apple Watch that connect to the device through the Apple Watch diagnostic port.
While BGR says the new features will be added to an "upcoming new version of the Apple Watch," it is not clear if that means the third-generation Apple Watch rumored to be coming in the fall of 2017. Current information about that device has suggested it will be a more minor update focusing on improving battery life and performance, with few design and hardware updates.