Apple Working on 'Swagger' TV Show Based on NBA Star Kevin Durant
Apple is developing a new drama series that's based on the early life and career of NBA star Kevin Durant, who plays for the Golden State Warriors, reports Variety.
The show, called "Swagger," was inspired by Durant's experiences as a youth playing basketball. It will highlight the world of Amateur Athletic Union (AAU) basketball, taking a look into the lives of players, their families, and coaches.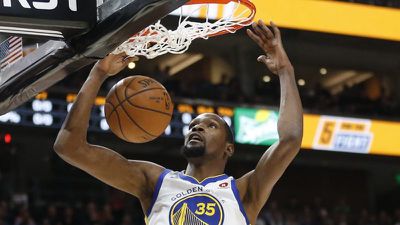 Imagine Television, led by Brian Grazer and Ron Howard, will produce alongside Kevin Durant's Thirty Five Media. Both Durant and Grazer will serve as executive producers, while Reggie Rock Bythewood will write and direct. Bythewood is known for his work on "Notorious," a movie that shared the story of Notorious B.I.G., and television series "Shots Fired."
Apple now has at least 10 television shows in the early stages of development, including an untitled morning show drama starring Jennifer Aniston and Reese Witherspoon, an "Amazing Stories" reboot from Steven Spielberg, an untitled space drama from Battlestar Galactica creator Ronald D. Moore, a series written by "La La Land" creator Damien Chazelle, a Kristen Wiig comedy series, See, an epic world-building drama, Home, a docuseries focusing on incredible homes, and "Little America," an anthology series from "The Big Sick" creators Kumail Nanjiani and Emily V. Gordon.
More details about each of Apple's television projects can be found in the original content section of our Apple TV roundup.