Apple Picks Up 'Little America' TV Show Written by The Big Sick's Kumail Nanjiani and Emily V. Gordon
Apple has picked up a new TV show called "Little America," a half-hour anthology series written by Kumail Nanjiani and Emily V. Gordon, the duo behind popular movie "The Big Sick," and Lee Eisenberg, who produced comedy series "SMILF" and will serve as showrunner.
According to Deadline, "Little America" is based on a series of true stories featured in Epic Magazine that paint a portrait of America's immigrants. From the magazine description: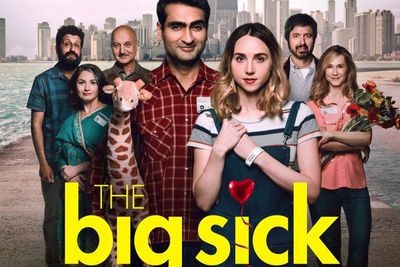 Everyone here came from somewhere else. Even Native Americans crossed the Bering Strait at some point. This is the basic American idea -- an identity open to all -- but it can be easy to forget from inside. And that's when politics can turn ugly, as it has recently, with our political narrative becoming a story of blame and fear. "Little America" is meant to counter that narrative with a fuller portrait of our most recent arrivals. Here we present just a few stories.

You'll meet a woman who kissed a car for 50 hours. A man who escaped communism via zip-line. A Hindu Mayor of a small Kansas town. These stories are a small, collective portrait of America's immigrants. And thereby a portrait of America itself.
The show will reportedly look at "the funny, romantic, heartfelt, inspiring, and unexpected lives of immigrants in America." Nanjiani and Gordon will executive produce, alongside Alan Yang, "Master of None" co-creator, and Eisenberg.
"The Big Sick," written by Nanjiani and Gordon, won multiple award nominations and was the highest-grossing indie movie of 2017. Nanjiani is also known for his work on "Silicon Valley."
"Little America," alongside Apple's "Are You Sleeping" drama starring Octavia Spencer, are two projects that are being developed for straight-to-series consideration.
Apple has already inked deals for several other shows that will go straight to series, such as an untitled morning show drama starring Jennifer Aniston and Reese Witherspoon, an "Amazing Stories" reboot from Steven Spielberg, an untitled space drama from Battlestar Galactica creator Ronald D. Moore, a series written by "La La Land" creator Damien Chazelle, a Kristen Wiig comedy series, See, an epic world-building drama, and Home, a docuseries focusing on incredible homes.
Apple now has at least nine television shows in the works, and details about each one can be found in the original content section of our Apple TV roundup.
Update: Apple has officially ordered "Little America" to series according to Variety.