Apple Inks Deal for 'See' Futuristic Drama Series Written by Peaky Blinders Creator Steven Knight
Apple has been snapping up multiple TV shows in recent months, and its newest straight-to-series order is for a drama called "See," which was written by "Peaky Blinders" creator Steven Knight and will be directed by Francis Lawrence, known for his work on "The Hunger Games: Catching Fire" and "Mockingjay."
According to Deadline, the show is an epic world-building drama set in the future.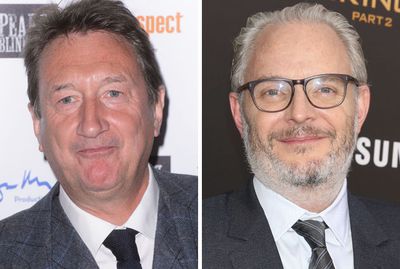 Francis Lawrence and Steven Knight, via Deadline


Little additional information is available on the series at this time, but it comes from Peter Chernin's Chernin Entertainment and Endeavor Content, which are also behind "Are You Sleeping" another upcoming Apple TV show.
"See" joins several other scripted TV shows that Apple has in the works, including a revival of 1985 Steven Spielberg sci-fi series "Amazing Stories," an untitled space drama developed by Ronald D. Moore, known for "Battlestar Galactica," an untitled "morning show drama" starring Reese Witherspoon and Jennifer Aniston, and "Are You Sleeping," a psychological thriller starring Octavia Spencer that focuses on a podcast that reopens a murder case.
Apple has also inked a deal for a docuseries called "Home," which will offer a never-before-seen look inside some of the world's most extra ordinary houses.
Apple has been aggressively pursuing original content since June of 2017, which is when it hired former Sony executives Zack Van Amburg and Jamie Erlicht to form a new video unit. Van Amburg and Erlicht, who produced shows like "Breaking Bad," "The Crown," and "Better Call Saul," are running Apple's video programming efforts on a worldwide scale under iTunes chief Eddy Cue.
It's not yet clear when the first of Apple's original TV shows will premiere, but it's possible at least one series will debut later in 2018.