Apple Working on 'Are You Sleeping' TV Show Starring Octavia Spencer
Apple has yet another new original television show in the works, which will star Octavia Spencer, known for her work in movies like "Hidden Figures," "The Help," "Gifted," and "The Shape of Water."
According to Variety, the upcoming series is a drama called "Are You Sleeping," which is based on a novel by Kathleen Barber.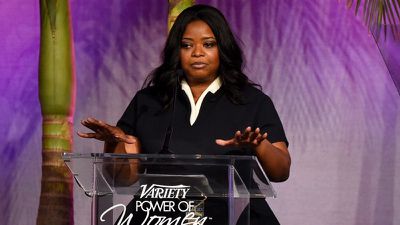 Image of Octavia Spencer via Variety
Described as a psychological thriller, the book focuses on a podcast that reopens a murder case, similar to the popular "Serial" podcast. The novel explores how the reopening of the murder case impacts the victim's daughter and disrupts her life. Sarah Koenig, who created and produced the "Serial" podcast, will consult on the series.
"Are You Sleeping" was written by Nichelle Tramble Spellman, and the series will be produced by Reese Witherspoon's Hello Sunshine and Chernin Entertainment/Endeavor Content.
Apple is also working with Witherspoon's Hello Sunshine on an as of yet untitled "morning show drama" that will take a look into the "cutthroat world" of morning TV.
Along with these two TV shows, Apple has picked up two additional shows, including a revival of 1985 Steven Spielberg sci-fi series "Amazing Stories" and an untitled space drama developed by Ronald D. Moore, known for "Battlestar Galactica."
Apple has been heavily pursuing original content since June of 2017, which is when it hired former Sony executives Zack Van Amburg and Jamie Erlicht to form a new video unit. Van Amburg and Erlicht, who produced shows like "Breaking Bad," "The Crown," and "Better Call Saul," are running Apple's video programming efforts on a worldwide scale under iTunes chief Eddy Cue. Since June, Apple has made multiple high-profile TV-related hires and has opened an office at The Culver Studios in Los Angeles.
It's not yet clear when the first of Apple's original TV shows will premiere, but it's possible at least one of these will be ready in time for a 2018 debut.