Apple Bought Augmented Reality Headset Company Vrvana
Apple recently purchased Vrvana, a company that developed an augmented reality headset called Totem, reports TechCrunch.
Two sources with knowledge of the deal confirmed the acquisition, but Apple declined to comment and did not provide its usual acquisition statement. TechCrunch says Apple did not deny the story, though, and several employees who were previously with Vrvana are now with Apple.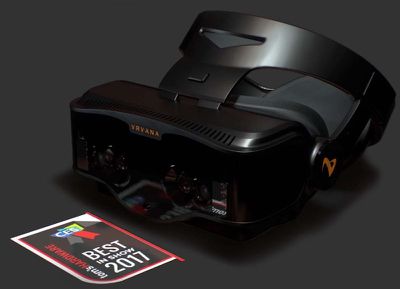 Apple is said to have paid $30 million for Vrvana, and the deal may have taken place this summer. Vrvana's website is still up and running, but social media accounts ceased updates in August.
Vrvana developed a sort of mixed reality headset called Totem, which was never released. It was designed to combine both augmented and virtual reality technologies in a single headset, merging full VR capabilities with pass-through cameras to enable screen-based augmented reality features.
Essentially, Totem used a set of cameras to project real world images into its built-in 1440p OLED display, a somewhat unique approach that set it apart from competing products like Microsoft's HoloLens, which uses a transparent display to combine virtual and augmented reality. With Totem's approach, much richer virtual experiences were available, as full VR objects could be combined with a real-world view.
The built-in cameras were used to track the device's position in space, and additional infrared cameras were used to detect a user's hands. Several media sites were able to check out the Totem last year, and it received largely positive reviews.
Totem's technology could be built into a future Apple device, as multiple rumors suggest Apple is working on some kind of augmented reality headset or smart glasses product.
Apple is said to be building an AR headset that features a dedicated display, a built-in processor, and a new "rOS" operating system. The company is aiming to finish work on its augmented reality headset by 2019, and a finished product could be ready to ship as soon as 2020, should the project progress on schedule.
While Apple has acquired other augmented reality companies like Metaio, Faceshift, Flyby Media, and SensoMotoric Instruments, this is the first dedicated AR/VR headset hardware company Apple has purchased, signaling a deep interest in developing some kind of AR/VR wearable device.