Ahead of the iPhone X unveiling, and the launch of the Galaxy Note 8 on Friday, Samsung today made a few announcements at a press event in Seoul, South Korea. The company said that it aims for the next iteration of the Galaxy Note to be bendable in some capacity, with the goal of launching sometime next year (via The Associated Press).
Samsung Electronics mobile business president Koh Dong-jin confirmed the company's plans, saying it's looking at a 2018 release date for "a smartphone with a bendable display." The president also commented that there are "several hurdles" Samsung has to overcome to implement a smartphone with a bendable screen, so the company is leaving itself room to push back the 2018 release if it needs to.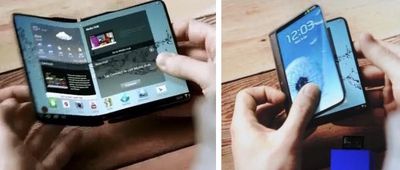 A bendable smartphone mockup by Samsung
Similar reports about
bendable smartphones from Samsung
have come out in the past, but the company has yet to officially launch such a device.
Koh Dong-jin, president of mobile business at Samsung Electronics, said the company is setting its eyes on 2018 to release a smartphone with a bendable display. But he said there are several hurdles it has to overcome, leaving room to push back the release if those problems are not solved.

"As the head of the business, I can say our current goal is next year," he told reporters. "When we can overcome some problems for sure, we will launch the product."
What those issues might be were not detailed, but analysts watching the company pointed out that mass production on a premium smartphone with a bendable display and a thin body "will take time." Rumors surrounding Samsung's entry into the bendable smartphone market have been swirling for the past few years. In late 2016, reports even began citing Apple's interest in the technology for future iPhones, which could be sourced from LG.
Koh further commented about Samsung's plans to launch a smart home speaker in partnership with Harman, which will allow users to talk to an artificial intelligence assistant -- likely Bixby -- to control the device and perform various tasks. A release date or design details for the Samsung speaker were not given. Later today, Apple may reveal more information about its own smart speaker, the HomePod, which it announced in June for a December release.
Despite the Galaxy Note 8's expensive price tag (about $930 in the United States), Samsung has said that pre-orders were the highest ever for the Note smartphone line, "beating its predecessor Note 7 over five days by about 2.5 times." Samsung's announcements come a few hours ahead of Apple's big media event, where the Cupertino company will debut the significantly redesigned OLED iPhone X.