Samsung Rumored to Launch Fully Bendable Smartphones in 2017
Smartphone maker and display manufacturer Samsung is believed to launch a pair of smartphones in early 2017, each with a bendable OLED display. According to people familiar with the smartphones' development (via Bloomberg), the two devices could be unveiled as early as Q1 2017 -- potentially at Mobile World Congress in February -- and come in two different sizes, similar to that of the iPhone 6s and iPhone 6s Plus.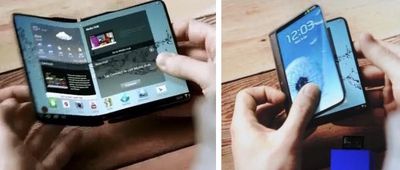 Bendable smartphone mockup by Samsung
One phone would have a 5-inch screen when used in a normal handset fashion, and could then be opened to a tablet size that's "as large as 8 inches." The smaller alternative is estimated to be sized around a traditional modern 5-inch smartphone, but users would have the ability to fold it in half "like a cosmetic compact" to easily fit it into bags and pockets.
"This product could be a game-changer if Samsung successfully comes up with a user interface suitable for bendable screens," said Lee Seung Woo, an analyst at IBK Securities Co. in Seoul. "Next year is a probable scenario. Their biggest obstacle was related to making transparent plastics and making them durable, which seems resolved by now."
Codenamed "Project Valley," the bendable smartphones won't be Samsung's new flagship devices, and are believed to be angled more as an experiment by the company to test the waters of user response to bendable screens. Because of this, the two new handhelds also won't fall under the Galaxy S line of phones currently running by Samsung, but will be newly named entries in its collection of smartphones.
While not bendable, Apple's 2017 iPhone is expected to pack in a curved OLED display with an
edge-to-edge, bezel-free design
, similar to that of Samsung's Galaxy S7 smartphone. Overall, Apple's "iPhone 8" is expected to be a huge update year for the company's smartphone, following 2016's internals-focused upgrade, so it'll be interesting to see how the the two handhelds fare against each other when they launch.