Samsung is developing a voice-activated smart speaker to rival the likes of the Amazon Echo and Apple's forthcoming HomePod, according to a report published on Tuesday.
The project, internally codenamed "Vega", will be based on Samsung's Bixby virtual assistant, but many of the speaker's features and specifications have yet to be decided, according to sources who spoke to The Wall Street Journal. Development is said to have been going on for more than a year but has reportedly been hampered by delays to Bixby itself.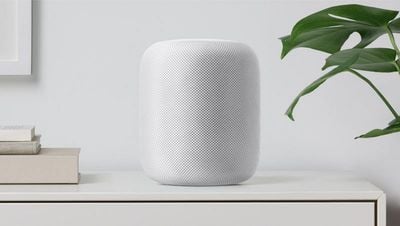 Apple's HomePod, set for release this December.
The company's Siri rival was
first announced
in March ahead of the debut of the Samsung Galaxy S8 and S8+, but an English-language version of the assistant has
yet to make it
into Samsung's phones because of performance issues. Samsung now says Bixby is unlikely to be fully introduced before the second half of July.
The connected speaker market has seen rapid growth over the last few years. Amazon released its Echo range of speakers in 2014, before the Google Home appeared a year later. Since then, Microsoft has opened up its Cortana assistant for use in third-party speakers, while just last month Apple announced it Siri-powered HomePod will be available by the end of the year.
Amazon's Echo commands more than 70 percent of the U.S. market for connected speakers, with the Google Home capturing around 24 percent, according to eMarketer, a research firm. The number of Americans using voice-activated speakers will reach about 36 million this year, said eMarketer, double last year's figure.