Apple's Online Store Goes Down Ahead of iPhone X Event Later Today
Apple's online store has gone down ahead of its first-ever event at Steve Jobs Theater in Cupertino, California later today.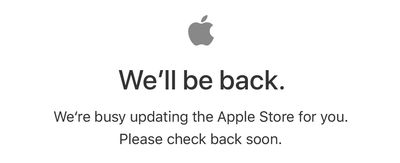 Apple will provide a live stream of the event on Mac, iPhone, iPad, and Apple TV starting at 10:00 a.m. Pacific Time.

Related: Here's When You Can Watch Apple's First Event at Steve Jobs Theater in Time Zones Around the World
At the event, Apple is widely expected to announce the "iPhone X" with an OLED display, wireless charging, and facial recognition. It is rumored the company will also unveil a new Apple TV with support for 4K video playback, and new Apple Watch Series 3 models, including some with LTE connectivity.

Related: What to Expect at Apple's September 2017 Event
MacRumors will provide full coverage of the event throughout the day, with a live blog, news stories, video recap, and more. Mac users can get headlines right on their desktops by enabling Safari push notifications. We'll also be live-tweeting the event through @MacRumorsLive on Twitter.
MacRumors readers can follow along in our forums, which are a great place to discuss the announcements before, during, and after the event. Be sure to keep tabs on the iPhone, Apple TV, and Apple Watch sections in particular.
If you will be unable to watch Apple's event today, consider bookmarking our spoiler-free article, which will be updated with nothing other than a direct link to the presentation once it becomes available from Apple.