Photo Emerges of Alleged 'iPhone 8' 3D Sensing Camera Module
Continuing a running theme over the last couple of weeks, a photo emerged online late on Monday of an alleged leaked 3D sensing camera module destined for the upcoming "iPhone 8" (via Slashleaks). Apple is said to have radically revamped its front-facing camera for its OLED iPhone, adding 3D sensing capabilities for facial recognition.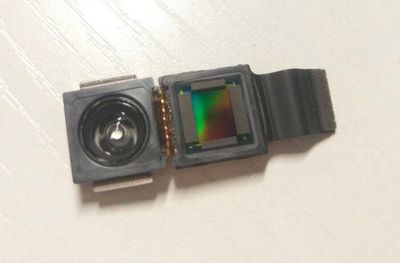 Notable KGI Securities analyst Ming-Chi Kuo has called the camera "revolutionary" because it consists of three modules: a standard camera front-facing camera module, an infrared transmitting module, and an infrared receiving module, all of which will allow the iPhone 8 to perform 3D sensing and modeling functions.
It's also possible that the front-facing camera will support 4K video recording at 60 frames per second, based on code found in the HomePod firmware leak, although this feature could be limited to the rear camera.
As with previous alleged leaked parts – which have included an A11 processor, wireless charging pad components, and an OLED display assembly and flex power cables - it's difficult to gauge the authenticity of the photo. However, it's not unusual for them to crop up in the weeks leading up to an iPhone launch.
In a separate and more dubious alleged leak, a video clip emerged on Tuesday on Chinese microblogging site Weibo showing what appears to be an Apple-branded handset with a rear-mounted fingerprint sensor going through a quality control process.
Strong consensus has built in recent months around the idea that Apple is eliminating Touch ID fingerprint recognition entirely in favor of a new authentication system based on facial recognition – as per the 3D sensing camera module above.
The prediction has been made by the reliable Kuo and echoed by JP Morgan analysts as well as Bloomberg, while Apple itself has confirmed that a facial recognition system is in the works, reflected in multiple references found in the leaked HomePod firmware. Given the weight of evidence suggesting the end of Touch ID for future iPhones, it's very likely this video shows a quality control stage for a knock-off clone iPhone destined for the Chinese market.
Expected to launch in early September, the "iPhone 8" – which could take a different name – is thought to feature a glass body and edge-to-edge OLED display that does away with the Home button. The new OLED iPhone will likely be sold alongside upgraded (but standard) 4.7 and 5.5-inch iPhones with LCD screens.