Alleged 'iPhone 8' Component Leaks Continue With OLED Display Assembly, Lightning and Power Flex Cables
Several images were posted to Chinese microblogging site Weibo on Saturday claiming to show more leaked "iPhone 8" components, just weeks away from the handset's expected launch in September.
The images, later shared via Slashleaks, are said to include the phone's OLED display assembly, internal components for the Lightning connector and flex cables for transferring power to other components.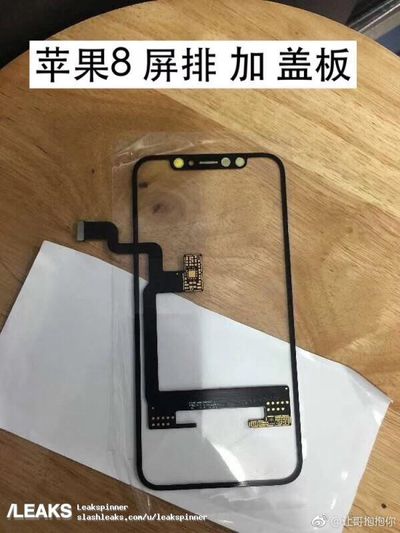 While we can't vouch for the authenticity of the photos, it's not unusual for leaked parts and components to steadily trickle out of assembly plants as Apple ramps up production ahead of an iPhone launch. For example, just last week we saw images of an alleged A11 processor and wireless charging pad components, both of which are expected to debut in Apple's radically redesigned OLED iPhone.
Earlier this month, images were shared online showing manufacturing validating tests for the iPhone 8, while videos were also shared purporting to show an iPhone 8 production line at an unidentified factory, presumably in China, although the veracity of said videos remains contentious.


Apple is expected to announce iterative "S" cycle upgrades to its existing iPhone 7 line-up next month, but with the potential for new glass backs and a wireless charging capability in addition to the usual moderate internal improvements.
As for the all-new 5.8-inch iPhone 8, which could still take a different name, Apple is expected to debut a virtually bezel-free edge-to-edge handset with an OLED screen, a glass back, a vertically oriented dual-lens camera, and a steel frame, all for a more premium feel and price tag – possibly in the $1000 range.


Based on details unearthed in Apple's HomePod firmware, the device will have a notch at the top of the display that will house the sensors and camera, and will do away with the traditional physical Home button in favor of a virtual one, with a facial authentication system likely replacing Touch ID fingerprint recognition.
The new iPhones are thought to debut in black and silver colors, plus a new copper-like option, possibly called "Blushed Gold". Based on the launch schedules of previous years, Apple is expected to announce the phones at an event falling in the first two weeks of September. You can read more on everything we know so far about Apple's upcoming iPhone 8 event in our dedicated roundup.
Update: MacRumors reader Sunny1990 has posted more photos in an MR forum thread, including additional OLED display parts.