Images purporting to show the A11 series chip that will power the upcoming "iPhone 8" emerged online today, suggesting that Apple's processor is already making its way through iPhone assembly plants.
All iPhone models coming in the fall are expected to use the A11 chip, including the iterative "S" cycle upgrades to Apple's existing 4.7-inch and 5.5-inch iPhones. The processor relies on a new 10-nanometer FinFET manufacturing process introduced by Taiwan Semiconductor Manufacturing Company (TSMC), the sole supplier of the new chip.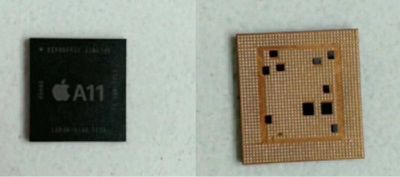 TSMC was said to have reached the
exclusive deal
with Apple last year thanks to its advanced device packaging techniques, capable of higher-width memory buses and lower-power operation.
As such, the A11 processor will be faster and likely more power efficient than the current A10 found in the iPhone 7 and 7 Plus, translating to speedier overall performance and better battery life for the upcoming devices.
Apple has a major redesign in store for the iPhone 8, which will feature a glass body and edge-to-edge OLED display that does away with the Home button, and a new facial recognition system that may well replace its Touch ID fingerprint authentication.