Qualcomm Seeks iPhone and iPad Import Ban in the United States
The legal battle between Qualcomm and Apple continues to escalate, with Qualcomm asking the United States International Trade Commission (ITC) to block imports of select iPhone and iPad models, reports Fortune. Qualcomm also wants to stop sales of devices that are already in the United States and has filed a new patent infringement case against Apple in the Southern District of California.
According to Qualcomm, Apple is infringing on six Qualcomm patents related to carrier aggregation and technologies that are designed to allow iPhones to save battery life while communicating. The six patents cited by Qualcomm were granted between 2013 and 2017 and are not licensed or standard-essential patents that are part of the ongoing Qualcomm v. Apple battle over royalty payments.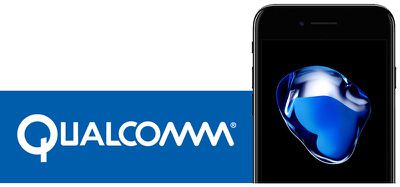 Qualcomm is asking the ITC to block all iPhones that are equipped with LTE chips from competing mobile communications companies, which would include AT&T and T-Mobile iPhone 7 and iPhone 7 Plus models equipped with Intel chips, along with some iPad models. In an interview, Qualcomm lawyer Don Rosenberg said Qualcomm is pursuing another lawsuit and an import ban because Apple is not willing to pay for the technology it uses.
"If Apple was a willing licensee and Apple was someone who was, like everybody else, willing to pay for what they use, we wouldn't be suing them on these patents," Don Rosenberg, Qualcomm's general counsel, said in an interview. "But they're not, and we felt we were put in a position, given all the lawsuits they've brought against us around the world, of not simply having to defend ourselves but having to take some affirmative action ourselves."
As noted in Qualcomm's ITC request, a possible ban on the iPhone 7, iPhone 7 Plus, and future iPhones wouldn't happen for approximately 18 months, so it would not affect the devices Apple plans to release in September of 2017. Qualcomm expects the ITC to look into the complaint in August and schedule a trial for 2018, and it believes the new patent infringement case filed today could be put on hold until the ITC makes a decision on the import ban.
The dispute between Apple and Qualcomm kicked off in January, when the FTC complained that Qualcomm had engaged in anticompetitive patent licensing practices. Apple sued Qualcomm for $1 billion shortly after, accusing the company of charging unfair royalties for "technologies they have nothing to do with" and refusing to pay quarterly rebates.
Qualcomm countersued in April, accusing Apple of breaching licensing agreements, making false statements, and encouraging regulatory attacks against Qualcomm, which prompted Apple to stop making royalty payments to Qualcomm entirely until a court can determine the proper amount due.
Since then, the two companies have been fighting a bitter public battle. Apple in late June expanded its lawsuit against Qualcomm and accused the wireless chipmaker of "double-dipping" with unfair patent licensing agreements. According to Apple, Qualcomm has overcharged it by billions of dollars, while Qualcomm says its innovations are "at the heart of every iPhone."
Alongside its dispute with Apple, Qualcomm is also now facing an FTC lawsuit for using anticompetitive tactics to remain the dominant supplier of baseband processors for smartphones.