Qualcomm Says Its Innovations Are At the Heart of Every iPhone as Battle With Apple Intensifies
Apple this week expanded its lawsuit against Qualcomm, accusing the wireless chipmaker of "double-dipping" by allegedly refusing to sell chips to manufacturers unless they also pay separate royalties and enter licensing agreements at unreasonable rates, according to court documents filed electronically.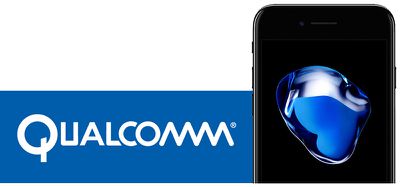 Qualcomm has since responded to the amended complaint, claiming that Apple is "trying to distract" from the fact that it has made alleged "misleading statements" about the comparative performance of its Snapdragon X12 modem, used in select iPhone 7 models to enable Wi-Fi and cellular connectivity.
Apple dual sources wireless chips from Qualcomm and Intel for the iPhone 7 and iPhone 7 Plus. Qualcomm's Snapdragon X12 modem is used in CDMA models, such as those sold by Verizon and Sprint, while Intel's XMM7360 modem is used in GSM models, such as those sold by AT&T and T-Mobile.
New York-based Cellular Insights last year found Qualcomm's modem to significantly outperform Intel's modem in the iPhone 7 Plus, based on simulated testing of LTE performance at different distances from a cellular tower.
Apple, however, publicly stated there is "no discernible difference" in performance between the Qualcomm and Intel modems in any of the models. Apple also threatened Qualcomm not to disclose the truth, according to Don Rosenberg, executive vice president and general counsel of Qualcomm.
Rosenberg said Apple's bigger misconception is that Qualcomm's innovations are limited to technology implemented in the cellular modem, when in fact its patented inventions are supposedly "at the heart of every iPhone" and "enable the most important uses and features" of those devices.
An excerpt from Qualcomm's statement obtained by MacRumors:
Apple says Qualcomm's innovations are limited to technology implemented in the cellular modem, when Apple knows well that Qualcomm has been the de facto R&D arm of the industry.

Qualcomm's patented inventions make possible not only connectivity and high-speed data transmission across mobile networks, but also high-precision GPS navigation, app store operations, power management and battery efficiency, mobile video including advanced compression, graphics, camera imaging and facial-recognition technology, audio quality and audio file compression, and much, much more.

Qualcomm's innovations are at the heart of every iPhone and enable the most important uses and features of those devices. It simply is untrue that Qualcomm is seeking to collect royalties for Apple innovations that have nothing to do with Qualcomm's technology.
Rosenberg added that Apple is "rarely first to market with any new technology, which shows it is relying heavily on the R&D investments in the most revolutionary technologies by companies like Qualcomm."
Apple argued that Qualcomm has been unfairly "levying its own tax" on the iPhone's innovations by charging royalties on a percentage of the entire smartphone's value, despite supplying just a single component of the device.
An excerpt from Apple's amended complaint:
As Apple innovates, Qualcomm demands more. Qualcomm had nothing to do with creating the revolutionary Touch ID, the world's most popular camera, or the Retina display Apple's customers love, yet Qualcomm wants to be paid as if these (and future) breakthroughs belong to it.
Qualcomm said the per-device royalty that it charges Apple's contract manufacturers for the right to use its licensed technologies in the iPhone is "less than what Apple charges for a single wall plug." The only first-party wall plug that Apple sells is a 5W USB Power Adapter for $19 in the United States.
Apple sued Qualcomm in January for $1 billion in alleged unpaid royalty rebates. Qualcomm countersued Apple for breach of contract, encouraging regulatory attacks on its business, and failing to engage in "good faith negotiations" for a license to its wireless patents on fair, reasonable, and non-discriminatory terms.
Qualcomm was the exclusive supplier of 3G and LTE modems for iPhones until last year, when Apple began dual sourcing from Intel.