Apple Says Qualcomm Has Overcharged Billions of Dollars By 'Double-Dipping' on iPhone's Innovation
Apple has expanded its lawsuit against Qualcomm, accusing the wireless chipmaker of "double-dipping" by way of unfair patent licensing agreements, according to an amended complaint filed with a United States federal court in San Diego today.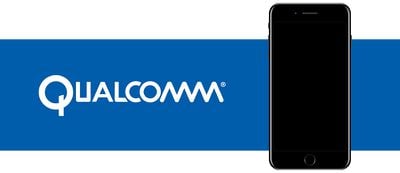 The complaint broadens the claims Apple made in its original lawsuit against Qualcomm in January, when it sued the chipmaker for $1 billion in alleged unpaid royalty rebates. Apple also accused its longtime supplier of the iPhone's wireless chip of engaging in anticompetitive licensing practices.
Since the original iPhone, Qualcomm has supplied Apple with modems that enable the smartphone to, for example, connect to a Wi-Fi or LTE network. But as the iPhone has gained more features, Apple argues that Qualcomm has been unfairly "levying its own tax" on those innovations through "exorbitant royalties."
Apple said Qualcomm wrongly bases its royalties on a percentage of the entire iPhone's value, despite supplying just a single component of the device.
As Apple innovates, Qualcomm demands more. Qualcomm had nothing to do with creating the revolutionary Touch ID, the world's most popular camera, or the Retina display Apple's customers love, yet Qualcomm wants to be paid as if these (and future) breakthroughs belong to it. Qualcomm insists in this Court that it should be entitled to rely on the same business model it applied over a decade ago to the flip phone but while that model may have been defensible when a phone was just a phone, today it amounts to a scheme of extortion that allows Qualcomm unfairly to maintain and entrench its existing monopoly.
The licensing agreements are in addition to paying for the wireless chips themselves. Apple said Qualcomm's "double-dipping, extra-reward system" is precisely the kind that the U.S. Supreme Court recently forbade in a lawsuit between Lexmark and a small company reselling its printer cartridges.
If that were not enough, the U.S. Supreme Court's recent landmark decision in Impression Products, Inc. v. Lexmark International, Inc., condemned Qualcomm's business model as a violation of U.S. patent law. The Supreme Court flatly rejected Qualcomm's business model, holding that a patent holder may demand only "one reward" for its patented products, and when it has secured the reward for its invention, it may not, under the patent laws, further restrict the use or enjoyment of the item. Qualcomm, by its own admission, will not sell chips to manufacturers who do not also pay separate royalties and enter Qualcomm licenses at usurious rates. This is precisely the kind of double-dipping, extra-reward system that the Court's decision in Lexmark forbids.
Apple said it has been "overcharged billions of dollars" due to Qualcomm's so-called "illegal scheme," including the $1 billion in unpaid royalty rebates that led Apple to sue Qualcomm in January.
In its countersuit, Qualcomm accused Apple of failing to engage in good faith negotiations for a license to its 3G and 4G standard essential patents on fair, reasonable, and non-discriminatory (FRAND) terms.
Apple, however, argues that Qualcomm's monopolistic licensing demands violate its FRAND obligations.
By tying together the markets for chipsets and licenses to technology in cellular standards, Qualcomm illegally enhances and strengthens its monopoly in each market and eliminates competition. Then, Qualcomm leverages its market power to extract exorbitant royalties, later agreeing to reduce those somewhat only in exchange for additional anticompetitive advantages and restrictions on challenging Qualcomm's power, further solidifying its stranglehold on the industry.
Apple also claims that Qualcomm has never made it a worldwide offer on FRAND terms for a direct license to its patented technologies.
Apple said Qualcomm subsequently filing lawsuits against iPhone manufacturers Foxconn, Pegatron, Wistron, and Compal reveals "its true bullying nature," calling it "a blatant attempt to exert pressure on Apple to acquiesce to" its "non-FRAND royalty demands" by attacking its smaller contract manufacturers.
Qualcomm knows that these are companies who have been effectively coerced by its monopoly practices in the past. Qualcomm knows that these companies merely pass through the usuriously high royalty demanded by Qualcomm and so have little incentive to resist its monopolistic tactics.
Apple has called for the court to declare Qualcomm's patents in the lawsuit unessential to 3G/4G standards used in the iPhone and its other products, and to prevent Qualcomm from taking any adverse or legal action against Apple's contract manufacturers related to the allegations in today's amended complaint.