Questionable Rumor Claims Apple Will Debut Two iPhones This Year, Not Three
A Chinese tech blog bucked the iPhone rumor trend today by claiming it had received insider information from the Apple supply chain that Apple will release two iPhone models this year rather than the expected three.
Micgadget.com posted the rumor in the early hours of Tuesday, citing "some [of] our friends from Foxconn" who apparently "confirmed" that Hon Hai had received an order for two models, corresponding to two versions of Apple's radically redesigned OLED iPhone, the so-called "iPhone 8".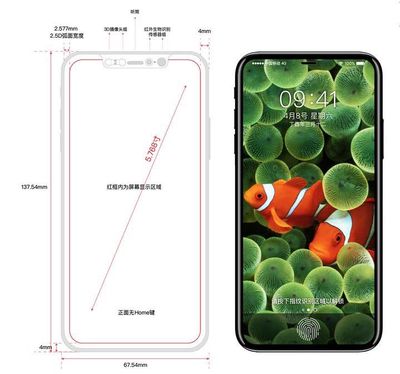 Rumors say that Apple will release two iPhone 7S and one iPhone 8 (or iPhone Edition) models. Today we can tell you, that it's not true. This fall we can see only two models with new technology. Very interesting that rumors leaked new iPhone 8 and big iPhone 8 Plus will have similar dual cameras.
It's highly unusual for a supply chain rumor to go against the prevailing assumption this late into the iPhone cycle, and Micgadget.com has a mixed history of releasing information on Apple's plans. The site has also been pushing the idea that Apple will release an additional "iPhone 8 Plus" since at least February with little evidence to back up the claim, so we're covering this rumor merely to highlight our current doubts regarding its veracity.
For some time now, analyst expectations and supply chain hints have indicated that Apple will break away from its annual tradition of launching two models of iPhone and will instead reveal a radically overhauled smartphone in addition to its usual "S" refresh model updates.
The rumor trail began all the way back in March of 2016, when noted analyst Ming-Chi Kuo laid out his expectations that Apple would launch 4.7-inch and 5.5-inch LCD iPhones alongside a standout "premium" OLED model, because of supply constraints on AMOLED technology. Multiple reports have since corroborated this scenario, with Apple said to be aiming for a more complete transition to Samsung-made OLED displays in 2018 when supplies become more available.
Indeed, it's possible Micgadget.com is misinterpreting information from its purported Foxconn source for precisely this reason. Multiple reports suggest Apple will debut its redesigned OLED iPhone in September, but it could still face severe supply shortages until perhaps as late as October or November. Therefore, while orders for Apple's two LCD-based iPhones may have been cemented in good time for the usual August-September ramp-up in production, orders for an "iPhone 8" at the supply chain level may have still not been pegged down.
Apart from an edge-to-edge OLED display in a typical-sized 4.7-inch casing, the "iPhone 8" is expected to include wireless charging, no physical Home button, and perhaps 3D facial recognition and/or iris scanning. In addition, rumors suggest that Touch ID could be embedded in or under a True Tone display, or could possibly be relocated to the rear of the device if Apple can't perfect the under-screen technology in time.