Ming-Chi Kuo Agrees iPhone 8 Will Launch in September With 'Severe' Shortages Due to Delayed Production
As more alleged design schematics and dummy models of the "iPhone 8" leak online, one of the biggest questions remains the smartphone's actual launch date. Although some industry sources believe the tenth-anniversary iPhone will still launch in September -- perhaps in very short supply -- Japanese site Mac Otakara earlier this year suggested the OLED iPhone 8 would launch "very much" behind the the LCD models.
Today, KGI Securities analyst Ming-Chi Kuo has published a report supporting the theory that Apple will debut the OLED iPhone in September, but the device will face "severe supply shortages" for some time. Kuo believes that production ramp-up on the OLED iPhone model won't begin until as late as October-November, two months later than previous ramp-ups in August-September. Similar delayed production rumors have been circulated by Bloomberg, analysts from Barclays, and Brian White.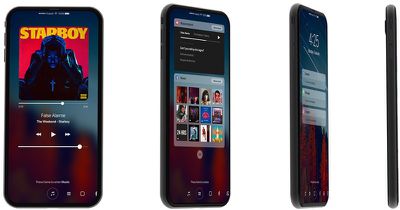 Kuo believes that this delay "won't undermine actual demand," as long as the iPhone 8 lives up to the hype, but the heaviest demand might be pushed back until as far as the first quarter of 2018, when the bulk of users could get their hands on the device according to Kuo.

Production ramp up of OLED iPhone could be delayed to October-November (previously estimated to be August-September, as in previous years). That said, if new features, such as 3D sensing, can provide good user experience, a temporary supply shortfall won't undermine actual demand, which may be deferred to 1H18. In that case, potential contribution starting late-2Q17 from OLED iPhone could be partially delayed by 3-6 months for related suppliers.
This delayed production ramp-up is listed by Kuo as a "potential downside risk to shipments" of all three iPhone models believed to launch this year, with a second risk coming from Apple's competitors. Samsung, Huawei, OPPO, Vivo, and Xiaomi are all gearing up to launch "high-end full-screen smartphones" in 2017, and all could have an impact specifically on the LCD models of the 2017 iPhone, according to Kuo, because those models "do not have full-screen form factors."
Because of these potential risks affecting the iPhone's shipments this year, Kuo adjusted shipping estimates for the device accordingly. The analyst believes that the "worst case scenario" could see iPhone shipments decrease by 15 to 20 percent and result in 80 to 90 million units shipped, versus a previous estimate of 100-110 million units (a 60:40 weighting is placed for the OLED and LCD iPhone models). Ultimately, Kuo said that, "We see a higher probability of the worst case scenario coming to pass."
Production delays in this year's OLED iPhone are again sourced from the device's intricate manufacturing processes, thanks to numerous upgrades including its customized OLED panel, new 10-nanometer A11 processor, all-new 3D Touch module, substrate-like printed circuit board, and 3D sensing. Despite these production difficulties, Kuo said that the iPhone 8's announcement and launch time of the new iPhones will remain similar to previous years, suggesting the usual September iPhone event from Apple.

While we believe the announcement and launch time of the new iPhones will be similar to previous ones, production ramp up of OLED iPhone could be delayed to as late as October-November compared to the usual ramp up period of August-September, due to increased production difficulty. In other words, severe supply shortages may persist for a while after the new models are launched, capping total shipments of new iPhones in 2H17.
Kuo also sees a potential loss of appeal by high-end users on the LCD versions of the new iPhone models, due to their lack of a full-screen design, contributing to Apple's potentially weak shipping momentum for the iPhone later this year in addition to the worst case scenario for the OLED model.