Galaxy S8 Preorders Were Samsung's 'Best Ever'
Samsung's trouble with the Galaxy Note 7, which notably caused several fires due to battery troubles and led to a full recall, hasn't affected demand for its newly launched Galaxy S8 and Galaxy S8+.
According to a statement released this morning by Samsung (via VentureBeat), Samsung saw 30 percent year-over-year growth in preorders compared to the Galaxy S7. While Samsung did not give specific sales numbers, the company said it saw its "best ever" preorder period.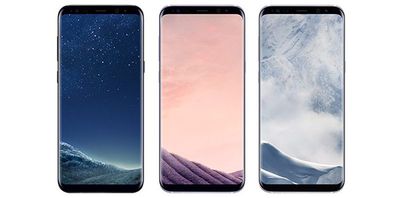 "We are delighted to see the response to the Galaxy S8 and S8+," remarked Samsung Electronics America president Tim Baxter. "The Galaxy S8 and S8+ are a result of that recommitment and the market has responded -- with a more than 30 percent year-over-year growth in pre-orders versus the record pre-orders we had with Galaxy S7, making it our best ever. The response is humbling, energizing and points to a great launch week. We aim to push the boundaries of what's possible in the name of a better, smarter, more exciting experience for our consumers."
The Galaxy S8 shares many features that could potentially be coming in Apple's 2017 OLED iPhone, including an edge-to-edge OLED display, iris scanning, a rear fingerprint scanner, facial recognition, IP68 water resistance, and camera improvements, though it does not feature a dual-lens setup as the iPhone 8 will.
Samsung's smartphone is, however, launching without one of its key features -- support for Bixby, Samsung's new virtual assistant built on Viv technology acquired from the original developers behind Siri. Bixby's English-language launch has been delayed due to performance issues, leaving one of the buttons on the Galaxy S8 non-functional.
Despite the missing functionality, the S8 and S8+ have received largely positive reviews. The AMOLED display is said to be "wonderfully vibrant and sharp," while the phone itself has been described as "slimmer and more attractive" than the iPhone 7 Plus but with a bigger screen.
Camera reviews suggest the low-light camera performance of the S8 beats the performance of the iPhone 7 Plus, but that's comparing a new device to a previous-generation device. Rumors suggest a major camera overhaul is coming with the iPhone 8, which appears to feature a dual-lens vertical camera that could result in both better images and augmented reality functionality.
Apple's iPhone 8 won't be coming until September, and even then, rumors suggest the higher-end OLED model could be constrained until late 2017 or early 2018.
Samsung's Galaxy S8 and S8+ went on sale on April 21 in the U.S., Canada, and Europe. The 5.8-inch Galaxy S8 starts at $750, while the larger 6.2-inch Galaxy S8+ starts at $850.