Samsung Reveals Extent of Note7 Battery Fire Investigation
Samsung held a press conference on Monday in which it revealed the results of its internal investigation into why some of its Galaxy Note7 handsets set on fire. Last week, leaked reports confirmed the battery was to blame, but Samsung took pains today to explain the thoroughness of its investigation, which involved over 700 engineers and data gathered from testing 200,000 phones and 30,000 Note7 batteries.
In addition to enlisting the help of two independent testing labs, the Korean company built a large-scale test facility to automate different charging and discharging scenarios, which was able to replicate the failures of consumer handsets. Absolutely everything was examined, said Samsung, from hardware and software design, to manufacturing and logistics.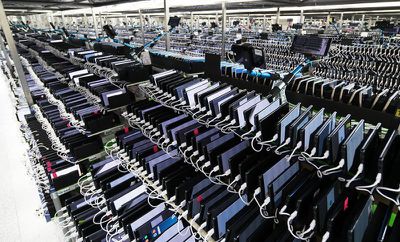 Samsung's Note7 test facility.
Samsung said that two separate flaws were to blame for some batteries setting on fire in both original and replacement phones. The original Note7 battery had a design flaw in the top-right corner that was liable to short-circuit, while the batteries in replacement units were prone to combustion because of a welding defect. Some handsets were also missing insulation tape. For those interested, the company also released an
infographic
explaining the findings in more detail.
Going forward, Samsung said it was introducing an 8-point Battery Safety Check that includes additional inspection and testing. The firm also said it was improving training for all battery handlers across its assembly and shipping chains. In addition, it explained that more space would be allowed around the batteries in its handsets to protect them from impact-related failures, and said it would take steps to improve its battery diagnostic and controller software.

"I [hope] this serves as an opportunity to improve safety of lithium-ion not only for Samsung but for the entire industry," Samsung mobile head DJ Koh told Recode, adding that Samsung takes responsibility for all components of the phone, including batteries made by other Samsung subsidiaries and those bought from outside companies.
Samsung confirmed that the changes would arrive in the forthcoming Galaxy S8, but told reporters not to expect its mid-cycle phone to make its usual appearance at the Mobile World Congress, held annually in February. No timeframe was given for the launch of the S8, suggesting Samsung is being careful not to put itself under undue pressure for its comeback after last year's Note7 debacle, which was said to be a result of the company trying to beat Apple's iPhone 7 to market.