Galaxy S8 Camera Said to Beat iPhone 7 Plus in Low Light Conditions
Samsung's new flagship Galaxy S8 and S8+ smartphones went on sale today in the U.S., Canada, Puerto Rico, and Korea, as the company looks to rebound from last year's Note7 debacle. Samsung will be encouraged by the record one million pre-orders it has already taken in Korea alone, while analysts are predicting global sales to reach at least 45 million units.
The 5.8-inch and 6.2-inch devices cost $725 and $825, respectively, which gets users an OLED screen that takes up 80 percent of the front of the handsets. Online reviews appeared earlier this week praising the phones' Infinity Display, but several marked them down for the relocation of the fingerprint scanner to the rear of the devices, right alongside the camera lens.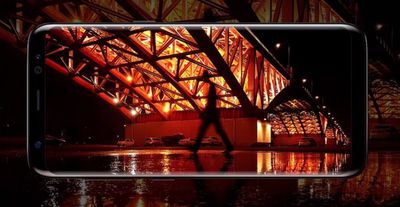 The camera itself has received less coverage, as it's actually the same 12MP dual pixel module as the one that appeared in last year's Galaxy S7. However, Samsung has tweaked the software powering the f/1.7 lens in an attempt to improve image processing. To compare the results with those of the iPhone 7 Plus, Tom's Guide posted a selection of side-by-side comparison shots taken with the two rival phones.
Overall, the Galaxy S8 came out on top, but only by a slight margin. Despite lackluster macro performance with the S8, both phones' bright light results were said to be generally equal, but Samsung's new device bested the iPhone 7 Plus in well-lit nighttime and low-light shots, offering "generally richer" colors, sharper subjects, and "significantly more detail" in indoor and outdoor tests.


Despite the higher megapixel count of the S8's front-facing camera (8MP versus 7MP on the iPhone 7), Apple's phone was deemed to take sharper selfie shots with richer colors, while the two phones were tied in 4K 30fps video tests, although the S8's audio was said to be slightly cleaner.
Apple is thought to be testing a new dual-lens camera system similar to the iPhone 7 Plus for this year's upcoming OLED iPhone, which will have a Samsung-made display. Rumors suggest the front-facing camera of the iPhone 8 will use a "revolutionary" 3D-sensing system capable of identifying the depth and location of subjects, which could be used for facial and iris recognition or in future augmented reality features.