Apple Shares Hit New High for 2016 as Samsung Considers Scrapping Note 7 [Update: Note 7 Officially Discontinued]
Samsung is likely to permanently stop selling its Galaxy Note 7 smartphones following the latest halt of sales and production, according to reports on Tuesday.
Samsung halted sales and paused production of the Note 7 smartphones in the last 24 hours and told owners to power down the devices while it investigates reports of fires, fueling expectations the tech giant will scrap the flagship device.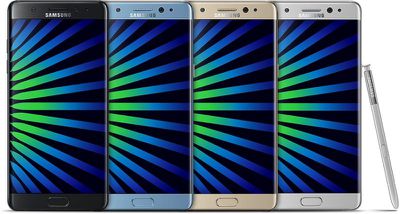 The BBC this morning referred to "unnamed sources" cited by South Korean Hankyoreh newspaper claiming that Samsung would can the device and seek to make up for lost Note 7 sales through its Galaxy S7 models as well as the Note 5, which was the predecessor for the Note 7.
Separately, Reuters reported Samsung is now considering permanently halting sales of its flagship smartphones as an option, "according to a source familiar with the matter". The person declined to be identified because they were not authorized to speak publicly.
Samsung did not immediately comment on the BBC report, but told Reuters no final decision had been made. Meanwhile, the South Korean finance minister said it would hurt the country's exports if the device is scrapped altogether.
 
"Right now we can't tell what the impact will be in the long term. It's up to the company and the government cannot interfere," Yoo Il-ho said. "But if they do scrap the model, it will have a negative impact on exports." 
According to analysts, the Note 7 recall could cost Samsung as many as 19 million lost unit sales, or as much as $17 billion, if it permanently stops selling the smartphone for a second time, following multiple reports of replacement handsets setting on fire. 

"This has probably killed the Note 7 brand name," said Edward Snyder, managing director of Charter Equity Research. "By the time they fix the problem they have to go through recertification and re-qualification and by the time that happens, they're going up against the [Galaxy] S8 launch." 
Investors wiped $18.8 billion off Samsung's market value on Tuesday as its shares closed down 8 percent, their biggest daily percentage decline since 2008. Meanwhile, Apple stock closed on Monday up 1.9 percent at $116.05 per share, its highest value this year. Apple is now trading at levels not seen since December 2015 and has jumped 20 percent over the past three months, partly on renewed optimism over iPhone 7 sales, but also in response to its arch rival's woes.
"The Apple share price was doing nothing for over a year – it was considered ex-growth – now it's possibly the only game in town when it comes to buying a mobile phone," said Michelle McGrade, chief investment officer at TD Direct Investing.
However, with last week's launch of its own-branded Pixel smartphones, Google is also poised to benefit.
"From Google's perspective the timing couldn't have worked out better for them in that they're essentially trying to compete now in the premium sector against the likes of Apple and Samsung," said Creative Strategies analyst Ben Bajarin, speaking to the BBC.

"Now with this issue around Samsung and some questions and stigma around the brand, the product itself, could certainly help Google out. But I think Apple's definitely the biggest beneficiary from here. If there were people on the fence about whether or not to get an iPhone 7 Plus, for example, which is kind of in the same size range as the Note 7, that was one of the things that we think is benefitting Apple the most, just because that's a competitive product and it's an established brand," Mr Bajarin added. 
The news comes on the same day Apple and Samsung are set to face off in the Supreme Court over a long-running smartphone design patent case.
Update: The Wall Street Journal has reported that Samsung has officially axed the Note 7, while Samsung has told TechCrunch: "We can confirm the report that Samsung has permanently discontinued the production of Galaxy Note 7."