Samsung Halts Production of Note 7 After Replacement Phones Explode [Updated]
Samsung has halted production of its beleaguered Galaxy Note 7 smartphone after several replacement handsets reportedly caught fire and ended up with at least one person in a hospital.
On Monday, an official at a supplier for Samsung informed Korean Yonhap news agency of the decision, which is said to have been made in coordination with consumer safety regulators from South Korea, the United States, and China.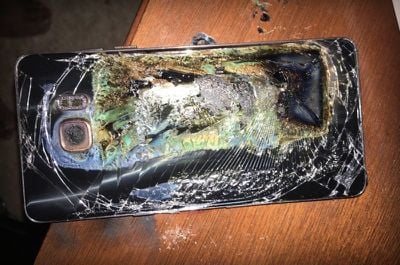 (Image: Shawn Minter)
The news is another hammer blow to Samsung's mobile division and its 2016 flagship device, as the company reels from a second round of exploding phone incidents indicating that the replacement handset program at the center of its global recall efforts has failed.
The decision came after all mobile carriers in the U.S. said they would stop issuing Note 7 devices following at least five reports of replacement handsets catching fire over the last five days.
On Wednesday, a flight from Louisville to Baltimore was evacuated while still at the gate because of a smoking Note 7. Saturday saw a Minnesota case involving a 13-year-old girl who said she felt a "weird, burning sensation" while holding her phone and suffered a minor burn to her thumb. "It felt like pins and needles except a lot more intense," she said.
Later the same day, a Kentucky man reported "vomiting black" after his Note 7 caught fire while he was asleep in bed, filling his room with smoke. "It wasn't plugged in. It wasn't anything, it was just sitting there," said the man, who later took himself to ER and was diagnosed with acute bronchitis.
Then on Sunday, another Note 7 bedside incident took place in Virginia. The phone "just burst into flames while on the night stand," said its owner. "I woke up in complete panic." By midday another device had caught fire on a table where a Texas family sat eating lunch together.
All the handsets in the incidents were replacements issued by Samsung, which the company had previously claimed were using batteries that are "not vulnerable to overheating and catching fire." Samsung has yet to explain what's going on with the replacement devices.
Rumors have suggested Samsung's Note 7 problems began after the company rushed the device into production after realizing the iPhone 7 would not feature major design changes, seeing it as an opportunity to one up Apple. Suppliers were pushed to meet tighter deadlines for an earlier launch, leading to critical oversights.
The supplier official who revealed the manufacturing halt this morning described the production as "temporarily suspended", however it is difficult to imagine in what circumstances Samsung would resume production of the Galaxy Note 7, which many observers will now consider a toxic brand.
Early speculation that iPhone 7 could experience an uptick in sales because of Samsung's woes seem increasingly likely. Samsung accounted for 27.8 percent of all smartphones shipped in Q1 2016, almost double Apple's 14.4 percent share, but a big part of Samsung's jump ahead was the early release of the Galaxy S7 and S7 Edge, while the much-anticipated Note 7 was Samsung's attempt to cater for the increasing popularity of larger-screen devices.
Update 1: Similar incidents of exploding replacement Note 7 phones have also been reported in Taiwan and South Korea.
Update 2: Samsung has said it is "temporarily adjusting the Galaxy Note 7 production schedule in order to take further steps to ensure quality and safety matters". The company said it hoped to provide an update within a month.