Spotify Punishing Artists Who Offer Apple Music Exclusives [Updated]
Spotify and Apple Music are becoming increasingly bitter rivals, and according to new reports from The New York Times and Bloomberg, the feuding is now affecting artists. Spotify has been punishing artists who agree to Apple Music exclusives, displaying their content less prominently and offering fewer promotional opportunities.
Spotify has explicitly told artists who offer Apple Music exclusives that their music won't be included on featured playlists, and Spotify has also "buried" their songs in its search rankings. The music streaming service has reportedly been using these retaliatory tactics for about a year.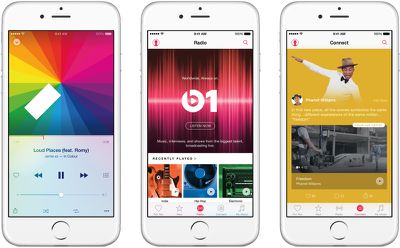 Spotify has been retaliating against musicians who introduce new material exclusively on rival Apple Music by making their songs harder to find, according to people familiar with the strategy. Artists who have given Apple exclusive access to new music have been told they won't be able to get their tracks on featured playlists once the songs become available on Spotify, said the people, who declined to be identified discussing the steps.
Spotify's tactics may not affect major artists in a significant way, but according to Bloomberg, the service has also threatened smaller acts who introduce their music on Beats 1 Radio with Zane Lowe.
Since Apple Music launched last year, Apple has been using exclusive content as a way to lure new subscribers to the service. Artists like Drake, Frank Ocean, Dreezy, Taylor Swift, and Katy Perry have debuted content exclusively on Apple Music, something both Spotify and record labels have become increasingly uncomfortable with.
Earlier this week, Universal Music Group CEO Lucian Grange told employees that UMG is now prohibiting its artists from offering music exclusives, meaning popular content from Taylor Swift, The Weeknd, Kendrick Lamar, and more, will no longer be eligible for debut solely on Apple Music. UMG's new policy has already affected Apple, preventing Apple Music from inking a deal with Lady Gaga.
At its one year anniversary in June, Apple Music boasted more than 15 million subscribers, and should it continue its rapid growth rate, the service could eventually eclipse Spotify as the most popular streaming service. Spotify continues to have approximately twice as many subscribers but the music service continues to struggle because it has yet to become profitable.
Update: According to a Spotify spokesperson that spoke to MacRumors, Bloomberg's claim that Spotify has "buried" search results for songs of artists who have signed Apple Music exclusives is "unequivocally false."