Apple Modeling Apple Music Exclusive Content After 'MTV in its 80s and 90s Heyday'
Apple has consistently been securing exclusive content, like Drake's latest album "Views", Taylor Swift's "The 1989 World Tour" concert film and music videos from The Weeknd and Eminem. In a new feature from Rolling Stone, Larry Jackson, Apple Music's head of original content, said the goal of securing that exclusive content is to put the service "at the intersection of all things relevant in pop culture."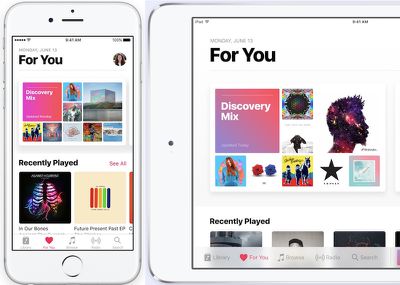 Jackson says that the model is "MTV in its Eighties and Nineties heyday. You always felt that Michael Jackson or Britney Spears lived there. How do you emotionally conjure up that feeling for people?"
Apple's deals with artists not only include exclusive streaming windows for singles and albums, but funding for music videos. For instance, Drake's "Hotline Bling" music video was funded by Apple, as were two videos for The Weeknd's "Cant Feel My Face" (one of which was not released).
The goal is to help artists feel like they can do interesting things with Apple. Monte Lipman, head of Republic Records, home of Ariana Grande and The Weekend, tells Rolling Stone that the Cupertino company has been prepared to do things other companies haven't. "Lately they've been very clever in coming to us with what we consider groundbreaking opportunities," he said.
Many of these opportunities include contributions from Apple executives. Tim Cook "weighed in" on the production of M.I.A.'s "Borders" music video while Swift says Jackson helped her brainstorm, make plans for and edit her concert film. That collaboration led to the Apple Music commercial where Swift raps along with Drake and Future's "Jumpman." The commercial helped increase "Jumpman" sales 43 percent, according to Rolling Stone.
However, Apple's strategy hasn't always worked out. Jackson says the company was in talks to host Kanye West's "The Life of Pablo." West eventually pulled out of talks to put his album on rival service Tidal, which he co-owns with Jay-Z. He chose Tidal over Apple Music because he "wanted to work with his friend," according to Jackson. While Kanye West initially said the album would "never" appear on Apple Music, the album did eventually come to the service.
Ultimately, Jackson told the magazine that the philosophy at Apple Music is "to go and get it done" when it comes to securing original content The service also has deals with Keith Richards, Selena Gomez and the Black Eyed Peas. Most recently, Apple gained the rights to exclusively launch Dreezy's debut album "No Hard Feelings." The service will also soon start hosting original video content like Dr. Dre's "Vital Signs" TV show and a six-episode documentary series co-produced with Vice.