Apple Music Turns One Year Old With 15 Million Subscribers on Board and a Redesign on the Way
Today marks the one year anniversary of Apple Music, which launched in 110 countries on June 30, 2015. The streaming music service was initially limited to the Mac and iOS devices, and it has since expanded to Apple TV and Android.
Apple's streaming music service, an evolution of the Beats Music service it acquired in 2014, has steadily gained listeners over the past twelve months, reaching over 15 million paying subscribers as of WWDC 2016 earlier this month.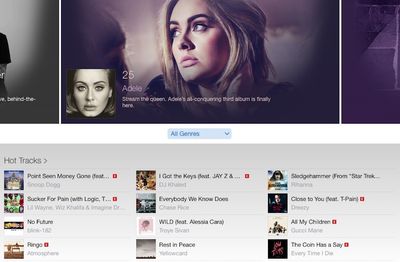 Spotify still remains the world's most popular streaming music service, with roughly twice as many paying subscribers as Apple Music, but the Swedish rival has been available in Europe for nearly eight years and in the U.S. since 2011.
Assuming that Apple Music maintains its current pace of growth, it is reasonable to assume that it will eventually eclipse Spotify as the top streaming service worldwide, with Apple Music benefiting greatly from its prominent placement within a default app on iOS and a lengthy three-month free trial to get users hooked on the service.
Apple Music has received its share of criticism since launch, partly due to somewhat confusing layouts that can make it difficult to find content and easily manage downloaded or owned content versus streamed content. Apple's "Connect" social feature intended to allow artists to share content with fans also failed to take hold, with many quickly drawing comparisons to the ill-fated
"Ping" social network
that debuted as part of iTunes in 2010 but was officially canceled just two years later.
With iOS 10, Apple is undertaking a reinvention of the Apple Music experience on its mobile platform, completely revamping the app with new organization and a new design. The new design in particular has been controversial, with bold fonts standing in stark contrast to most of the rest of the operating system. But the new layout makes for a much more logical organization of content and features, with downloaded music receiving its own section and Connect receiving much less prominent placement.
Apple is also pushing forward its relationships with artists for Apple Music, working hard to secure exclusive content as it seeks to
follow the model of "MTV in its Eighties and Nineties heyday"
in becoming the go-to place for artists and content.
Apple Music is clearly still in its early days, with Apple still evolving its integration of the Beats Music team and their streaming service into iTunes and the stock Apple user experience across all platforms. But with strong subscriber growth and industry trends pointing toward a continued shift toward streaming services, it's clear this is where Apple's content future lies, whether it be the current music service or future video services.