Tim Cook 'Optimistic' About iPhone 7 Sales, Sees 'Signs That are Positive'
During today's third quarter earnings call, Apple CEO Tim Cook told investors that he's "very optimistic" about prospective iPhone sales this fall, despite rumors suggesting the device will introduce only minor changes.
In response to a question about speculation that iPhone upgrade rates will be low in 2016 based on circulating rumors that the iPhone 7 will mark only a modest update to the iPhone 6s, Cook said he sees "so many signs that are positive" that point towards solid sales numbers.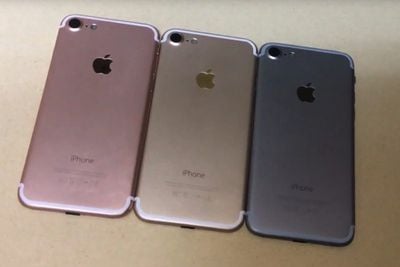 A mockup of the iPhone 7
I don't want to talk about new phones that aren't announced. That aside, what we have seen -- in past tense or in current tense -- on the upgrade rate is that the iPhone upgrade rate for the iPhone 6s is similar to the iPhone 5s. [...]

The iPhone 6 was significantly higher than that and it likely accelerated upgrades that would have been in the current year ahead of those. So what the future holds, we'll see, but I'm very optimistic about the future because I see so many signs that are positive.
As for the signs in question, Cook pointed towards an install base that has gotten "incredibly large," a switcher rate that continues to grow, a smartphone penetration rate that's only at 42 percent, changes coming in iOS 10, and the growing importance of the smartphone itself as it becomes "even more instrumental and important to people's lives."
On that last point, Cook said he expects AI to play a major role in turning the iPhone into an essential device that people can't live without. "As the iPhone becomes more and more your assistant, you're not going to leave without it," he said. "I see all of those things as vectors that are incredibly positive," he continued.
According to Cook, Apple will excel at AI because of the company's focus on user experience, which will drive people to adopt Apple devices. Apple is continually working to improve its virtual assistant Siri, and Cook's comments hint at Apple's continued focus on the service.
As the smartphone itself becomes more essential to customers' day-to-day lives, we think people will put more and more focus on what they're buying. The thing Apple does best is providing a killer user experience that's integrated across the entire product line, and that becomes more important and really plays to our advantage.

I think the deployment of AI technology is something we will excel at because of our focus on user experience. So I like that.
Apple will unveil its next-generation iPhone 7 this fall, likely in September. While the device is expected to have a design similar to the design of the iPhone 6s, it will feature camera improvements, a better processor, improved water resistance, no headphone jack, and more.