Apple Reports Q3 2016 Earnings of $7.8B on $42.4B in Revenue
Apple today announced financial results for the third fiscal quarter (second calendar quarter) of 2016. For the quarter, Apple posted revenue of $42.4 billion and net quarterly profit of $7.8 billion, or $1.42 per diluted share, compared to revenue of $49.6 billion and net quarterly profit of $10.7 billion, or $1.85 per diluted share, in the year-ago quarter. As expected, the results represent the second consecutive year-over-year declines in quarterly revenue and iPhone sales.
Gross margin for the quarter was 38 percent compared to 39.7 percent in the year-ago quarter, with international sales accounting for 63 percent of revenue. Apple also declared a quarterly dividend payment of $0.57 per share, payable on August 11 to shareholders of record as of August 8. The company currently holds $231.5 billion in cash and marketable securities, partially offset by $68.9 billion in long-term debt.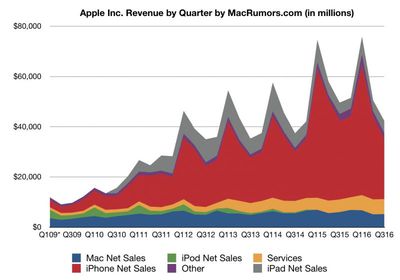 Apple sold 40.4 million iPhones during the quarter, down from 47.5 million a year earlier, while Mac sales were 4.25 million units, down from from 4.8 million units in the year-ago quarter. iPad sales were also down once again, falling to 9.95 million from 10.9 million.
"We are pleased to report third quarter results that reflect stronger customer demand and business performance than we anticipated at the start of the quarter," said Tim Cook, Apple's CEO. "We had a very successful launch of iPhone SE and we're thrilled by customers' and developers' response to software and services we previewed at WWDC in June."
Apple's guidance for the fourth quarter of fiscal 2016 includes expected revenue of $45.5–47.5 billion and gross margin between 37.5 and 38 percent.


Apple will provide live streaming of its fiscal Q3 2016 financial results conference call at 2:00 PM Pacific, and MacRumors will update this story with coverage of the conference call highlights.
Conference Call and Q&A Highlights are available in reverse chronological order after the jump.

3:02 pm: Apple's earnings call has concluded.
3:02 pm: Cook: We think of the new Apple TV as the foundation for what we can do in the space. I don't want to be more precise than that. Don't look at what's there today and think we've done what we want to do. We've built a foundation that we think we can do something bigger off of.
3:01 pm: Question asked about Apple TV and the broader streaming TV/content ecosystem.
3:01 pm: Maestri: iPhone SE has downward impact on iPhone ASP of course. Slightly dilutes company margins, but impact is not particularly large.
2:59 pm: Maestri: iPhone SE is doing exactly what it intended. We are seeing a higher rate of new-to-iPhone customers, which is obviously very important to us, as we bring new people into the iOS ecosystem. We see a higher rate of previous iPhone owners who really prefer the 4-inch phone factor. We have not seen clear evidence of cannibalization from iPhone 6s/6s Plus. What is much more relevant to us is the opportunity to bring more people into the iOS ecosystem.
2:57 pm: Cook: R&D growth rates are still very large on a year-over-year basis. Products that are in R&D … there is quite a bit of investment in products and services that are not currently shipping or derivations of what is currently shipping. I don't want to talk about the exact split of it, but you can look at the growth rate and conclude there is a lot we're doing beyond current products.
2:56 pm: Q: From an R&D growth perspective, how much is related to existing products and services versus what is coming next?
2:55 pm: (Side note: Cook actually called them Pokémans).
2:54 pm: Cook asked about Pokémon GO, says it is a testament to what can come from innovative apps. He says that AR can be really great. Apple continues to invest a lot in AR for the long run. Great things for customers. Great commercial opportunity. The number one thing is to make sure our products work well with other developers' kind of products like Pokémon.
2:52 pm: Cook: Apple's revenue tends to peak following product launches in China. There's a higher high and a lower low in China compared to other markets. What we are doing is innovating like crazy and delivering our best smartphone to our customers there. If we do a really good job of that, which we will, I'm confident we will do well there.
2:51 pm: Cook: iTunes Movies and iBooks Store shutdowns in China are not a revenue-related matter, as they were earning less than $1 million in revenue when operational in China. Apple is working very closely with government agencies to make those services available in China again in the future. Apple is optimistic.
2:50 pm: Q: Tim, can you give us your perspective on getting services back up running in China and regaining market share in the country?
2:50 pm: Cook: iPhone demand is made up of upgraders, switchers, and new-to-smartphone customers. Smartphone penetration is 42% at end of quarter, quite of bit of room there. Mostly in emerging markets. Apple has had reasonable business success in emerging markets. On switcher side, we really like what we're seeing. As the iPhone becomes more essential to customers' day-to-day lives, we think people will put more and more focus on what they're buying. The thing that Apple does best is provide a killer user experience that is integrated across the line. I also think the deployment of AI technology is something we will excel at because of our focus on user experience. So, I like that. From an upgrade point of view, there are plusses and minuses as I see it. A plus is that more and more people have already joined upgrade programs. Some of these programs, such as ours, replace the smartphone every single year. Some carriers have similar programs where the iPhone is changed up every year -- some others are 18, 24, or 30 months. Today, there are obviously a lot more people on those programs than ever before. The minus side is that … the lack of a subsidy can be a shock for people, particularly in the U.S., who were used to paying $199 before and now pay full price with a reduced cost of service.
2:46 pm: Q: How is the iPhone Upgrade Program doing? Is Apple thinking about ways to sell the iPhone and more of its products on a monthly type subscription basis, perhaps in a bundled basis?
2:44 pm: Maestri answering question related to sell-through/channel inventory reductions: "Apple reduced channel inventory on not only iPhone, but many other products … Even with sell-through adjustments, guidance for Q4 is still in line with the past."
2:41 pm: Cook questioned about the future, and the iPhone 7 being only an incremental upgrade, and refuses to comment on iPhones that have not been announced. He instead reiterates about the large number of switchers and new platform updates coming in the fall like iOS 10 and macOS Sierra. Cook also really likes what he has seen with the iPhone SE, says the cheaper phone is opening doors to customers Apple wasn't reaching before. Also satisfies customers who were looking for a refreshed 4-inch smartphone.
2:38 pm: Maestri talks about how Apple is dealing with a stronger U.S. dollar environment, and hedges appropriately. Apple feels that its gross margin of 37.5 to 38 percent gross margin, despite these FX headwinds, speaks favorably to the company's hard work recently.
2:37 pm: Q: Luca, as it relates to gross margin, the guidance is very similar to the past 5 years for June vs. September quarters … But there is something else/an added factor impacting the guidance?
2:35 pm: Cook: We're really proud of the developer community. Developers are earning a lot more money writing for iOS than for other platforms. We now have over 2 million apps in the App Store and we are more focused these days on discovery and other things to bring more great apps to the service. There are so many out there. Apple TV, CarPlay, HomeKit, and other services are providing users with a seamless experience.
2:34 pm: Q: I wanted to ask you about your platform strategy…
2:33 pm: Cook: We are not going to get into products or product transitions. We did see encouraging signs from last quarter, with double-digit growth in markets like Japan, Brazil, Russia, and Canada. We're also very happy with our switcher rate -- the highest ever we've ever recorded. Highest absolute number of switchers ever over the past 9 months. We think services will continue to grow very briskly.
2:32 pm: Q: What can you tell us about the timing of the new iPhone model? Where is the strength coming from in the September quarter?
2:31 pm: Cook: On the commodities side, and for the September quarter, we see NAND being pretty much in balance, while DRAM and LCDs and other commodities remain in an oversupply situation. Overall commodity prices we expect to decline.
2:30 pm: Maestri: Flat to slightly down sequentially. On the positive side, we will have leverage, as we are guiding towards a sequential increase in revenue. We expect to have a positive mix as we get into the September quarter.
2:30 pm: Q: Luca, can you talk about gross margins? Commodity pricing?
2:29 pm: Cook: We're constantly looking on the outside for great talent and great intellectual property. We have been buying companies on average every 3 to 4 weeks. We continue to do that. We think we've made some really great choices there. In terms of the investment in Didi, it was an unusual investment in that, you know, we don't have a long history of doing a lot of these, but we've done these. We invested in ARM. From a Didi point of view, we see it as (1) as great financial investment, (2) strategic things the companies can partner on over time, and (3) Apple can learn a lot more about the Chinese market through Didi.
2:28 pm: Q: Tim, can you talk about your thoughts on investments? You made the Didi investment this quarter. Acquisitions. Where are you putting your investment dollars from an acquisition/equity standpoint?
2:27 pm: Q&A session beginning.
2:26 pm: Maestri: Apple expects revenue to be between $45.5 billion and $47.5 billion in Q4 2016, compared to $51.5 billion in Q4 2015.
2:25 pm: Maestri: Apple returned $13 billion to shareholders last quarter.
2:25 pm: Maestri: Apple has $231.5 billion in cash plus marketable securities. $1.4 billion decrease.
2:23 pm: Maestri: Among U.S. consumers planning to purchase a tablet in the next 6 months, 63% plan to purchase an iPad. iPad Pro is the top device that those customers intend to purchase.
2:22 pm: Maestri: We faced a very difficult quarter with Macs compared to the year-ago quarter, when we launched a new MacBook Pro and iMac.
2:20 pm: Maestri: Services now account for 11% of Apple's overall revenue, up from 8% in the year-ago period.
2:20 pm: Maestri: We set a new record for customers transacting on the iTunes Store. Average amount spent per customer was the highest ever measured.
2:19 pm: Maestri: iPhone continues to show momentum in business market. 75% of prospective corporate buyers intend to buy iPhone in September quarter.
2:19 pm: Maestri: iPhone SE rollout concurrent with iPhone channel inventory reduction resulted in lower iPhone ASP of $595. Apple expects iPhone ASP to improve in Q4 2016.
2:18 pm: Maestri: $10.6 billion cash flow. iPhone channel inventory reduced by 4 million units. Sell-through down by 8%.
2:17 pm: Apple CFO Luca Maestri is now talking.
2:17 pm: Cook says Apple has incredible products in the pipeline and is very bullish about the company's future.
2:16 pm: Cook: 3 out of 4 contactless payments made with Apple Pay. More than 11 million contactless locations/points of sale in all participating Apple Pay countries. Apple Pay is now live in 9 markets, including 6 out of Apple's top 10 markets.
2:13 pm: Cook: We have focused our AI efforts on features that best enhance the customer experience. For example, machine learning enables Siri to learn words and the intent behind them, and can then deliver smarter, more accurate responses.
2:13 pm: Cook is reflecting on new features that customers can look forward to this fall with iOS 10, macOS Sierra, watchOS 3, and tvOS 10, such as improvements to Siri, Messages, and Continuity.
2:11 pm: Cook: India is one of our fastest growing markets. iPhone sales in India up 51% year-over-year in the first three quarters of this year. Cook confirms Apple's plans to open retail stores in the country in the future.
2:10 pm: Cook talks about currency headwinds affecting revenue earnings in Greater China region, such as the stronger Hong Kong dollar.
2:09 pm: Cook: iPhone install base in China has grown by 34% over the past year.
2:08 pm: Cook reflects on Apple Watch's top customer satisfaction rating among smartwatches awarded by JD Power. He does not comment on any specific sales.
2:07 pm: Cook: Our survey shows that half of iPad Pro purchasers are buying them for work. Ultimate upgrade for existing iPad users. Ultimate replacement device for customers switching from PCs.
2:07 pm: Cook: We expect our services category to be the size of a Fortune 100 company by next year.
2:06 pm: Cook: App Store revenue up 37% to an all-time high.
2:06 pm: Cook: Switchers from Android and other platforms accounted for the highest percentage of iPhone buyers than ever before.
2:05 pm: Cook: iPhone SE is popular in both developed and emerging markets. Sales to new-to-iPhone customers are greater than in previous years.
2:05 pm: Cook says iPhone SE demand outstripped supply through the entire June quarter.
2:04 pm: Apple reduced channel inventory by $3.6 billion. Sell-through was markedly greater than sell-in.
2:04 pm: Cook says that today's report reflects several encouraging signs that Apple did not expect even 90 days ago.
2:02 pm: Apple CEO Tim Cook will speak first, followed by CFO Luca Maestri.
2:02 pm: Apple's earning call is beginning.
1:47 pm: iPhone average selling price (ASP) declined to $595 from $642 last quarter, due in large part to the iPhone SE. On the flip side, iPad ASP rose to $490 from $430 due to the higher priced 9.7-inch iPad Pro compared to the previous iPad Air 2.