Corning Debuts Gorilla Glass 5 With Improved Drop Protection
Corning today unveiled its next-generation Gorilla Glass product, Gorilla Glass 5. The new glass, designed to be used in mobile device displays, offers improved protection against breakage from accidental drops.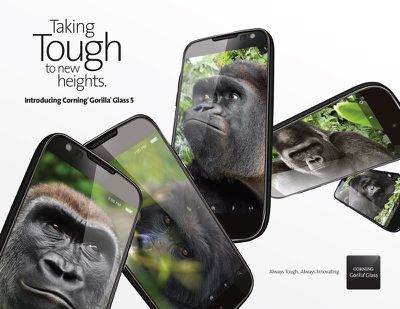 Building on previous generations of Gorilla Glass, Corning's latest product survives 80 percent of the time when dropped face-down from 1.6 meters (5.2 feet) onto a rough surface during lab tests. According to Corning, Gorilla Glass 5 survives drops four times better than competing glass products.
"With each successive generation of Corning Gorilla Glass, we have taken cover glass technology to new levels. Gorilla Glass 5 is no exception, extending Corning's advantage in drop performance over competitive glasses," said John Bayne, vice president and general manager, Corning Gorilla Glass. "With many real-world drops occurring from between waist and shoulder height, we knew improving drop performance would be an important and necessary advancement."
Corning's Gorilla Glass 5 will begin making its way into products starting later in 2016, and it is a prime candidate for inclusion in either the 2016 iPhone 7 and/or the 2017 iPhone 8. Corning has been a long-time supplier for Apple, with Apple using its Gorilla Glass for its iPad and iPhone lineup. Corning's last Gorilla Glass product, Gorilla Glass 4, came out in 2014.