Corning's Gorilla Glass 4 Promises Stronger Protection for Falls Onto Rough Surfaces
Corning today unveiled its new Gorilla Glass 4, its next-generation glass production that is even more resistant than previous versions to glass shattering drops. According to Corning, the company extensively studied shattered screens to understand how and why they break.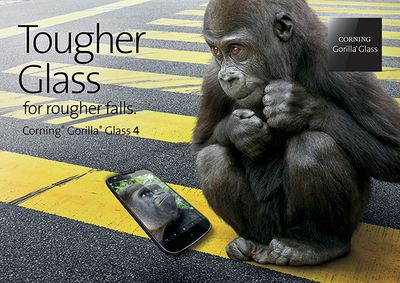 Corning scientists examined hundreds of broken devices and found that damage caused by sharp contact accounted for more than 70 percent of field failures. The scientists then developed new drop-test methods that simulate real-world break events, based on thousands of hours analyzing cover glass that had broken in the field or laboratory.
The culmination of this testing was Gorilla Glass 4, which reportedly is two times stronger than competing products and can survive 80 percent of face-down falls onto rough surfaces such as sandpaper. The company also claims the glass retains most of its initial strength following a shatter-free fall.
Corning is long-time supplier for Apple, providing the Cupertino company with Gorilla Glass for its iPhone and iPad lineup. Apple considered using the scratch-resistant sapphire for its iPhone display, but its partnership with GT Advanced
fell apart
when the supplier declared bankruptcy earlier this year.
Corning says product shipments of Gorilla Glass 4 to customers are already underway, making it a strong candidate for inclusion on next year's iOS devices should sapphire remain an infeasible option.