Google I/O 2016: Assistant, Home, Allo, Duo, Android N, and More
Google hosted its annual I/O developers keynote at the Shoreline Amphitheatre in Mountain View, California today, announcing multiple new products and services related to Android, search, messaging, home automation, and more.
Google Assistant
Google Assistant is described as a "conversational assistant" that builds upon Google Now based on two-way dialog. The tool can be used, for example, to ask who directed the movie Avatar, and to ask which other movies he has directed, and Google should be able to isolate the questions from the conversation and provide answers.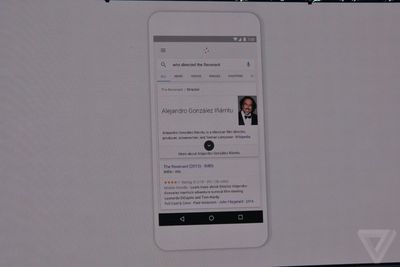 The new Siri and Alexa rival, compatible with both voice and chat, will be widely available on Android, iOS, in the home, and elsewhere later this year.
Google Home
Google Home is a new Wi-Fi-enabled personal assistant device for the home that enables people to ask Google search queries, manage everyday tasks, enjoy music and entertainment, and more using hands-free "OK Google" voice commands.


The Amazon Echo rival features a clean, color-changing design with no buttons, a speaker on the bottom, multiple room support, remote control of Chromecast and other speakers, compatibility with Nest and other popular home automation platforms, and more.
Google Home can be used to make general searches, check flight statuses, track shipments, set dinner reservations, turn on lights or play music in certain rooms, receive real-time traffic and routing information, check your appointments, and more.
Google Home will be available later this year. Pricing was not disclosed.
Allo
Allo is a new intelligent messaging app for Android and iOS, based on machine learning, computer visioning, and assistive technologies.


The app integrates with your phone number and features resizable message bubbles, emojis and stickers, smart reply suggestions for messages and photos, mini games, and more. There is also an Incognito Mode with end-to-end encryption, Snapchat-like expiring messages, and private notifications.
Allo also features Google Assistant built in, which can provide proactive suggestions such as nearby restaurants and sports results based on Knowledge Graph results. The suggestions will appear automatically based on the context of the conversation. OpenTable and YouTube will be two of many linked services.


Allo will be available this summer.
Duo
Duo is a standalone FaceTime-like HD video calling app for Android and iOS with a "Knock Knock" feature that shows live video of the other caller before answering.


The app features a clean user interface, encrypted video transmission, and proactive network quality monitoring with seamless switching between Wi-Fi and cellular data.
Duo will be available this summer.
Android N
Android N was announced prior to Google I/O, so today's keynote mainly provided a recap of new features and security enhancements.
One all-new feature Google announced today is a new VR platform called Daydream, allowing for high-quality VR experiences on smartphones this fall.


"Daydream-ready" smartphones from Samsung, HTC, LG, Huawei, and others running Android N will feature a new VR mode that is optimized for VR viewers.


Google is also accepting submissions for what to call Android N. Past versions have been based on desserts such as Marshmallow, Lollipop, KitKat, Jelly Bean, and Ice Cream Sandwich, and it appears likely that trend will continue.
The name unsurprisingly must start with the letter N. Google will accept submissions until June 8, 2016 at 11:59 p.m. Pacific Time.
Android Wear 2.0
Google unveiled a major new version of its wearable software platform today. Android Wear 2.0 will feature standalone apps, smart reply suggestions, improved handwriting recognition, a miniature swipe-based keyboard, customizable watch faces, Google Fit integration, and more.


Android Wear 2.0 launches in developer beta today, followed by a public release this fall.