Apple CEO Tim Cook Auctions Apple HQ Charity Lunch for Fourth Year in a Row
For the fourth year in a row, Apple CEO Tim Cook is participating in a charity auction through CharityBuzz, offering whoever bids the most the chance to eat lunch with him at Apple's headquarters in Cupertino. As with last year's auction, Cook is also offering tickets to an unspecified Apple keynote event.
Two people will be able to attend the lunch meeting with Cook, with the experience set to last for approximately one hour. Lunch is included in the price of the auction, but travel and accommodations are not. The offer expires on May 5, 2017, and will be scheduled at a "mutually agreed upon date."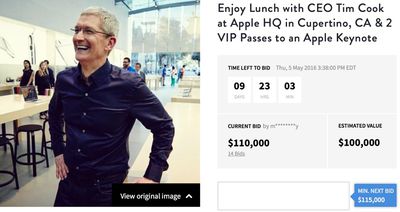 With the expiration date set to happen in May of 2017 and the second Apple campus set to be finished in late 2016, there's a chance the auction winner could be invited to the second Apple Campus, though the auction makes no mention of this.
The auction, which will last until May 5, has an estimated value of $100,000, but bids have already reached $110,000. All proceeds from the auction will be donated to the Robert F. Kennedy Center for Justice and Human rights, a charity that aims to achieve a "just and peaceful world by partnering with human rights leaders, teaching social justice and advancing corporate responsibility." Tim Cook has supported the RFK Center for several years running and was recently elected to the board of directors.
In 2015, Cook's charity lunch raised $200,000, while the 2014 auction brought in $330,001 and the 2013 auction brought in $610,000.